Jeep Wrangler Front Hitch Videos
Front Mount Trailer Hitch Installation - 2017 Jeep Wrangler - Draw-Tite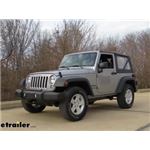 Today on our 2017 Jeep Wrangler, we'll be having a look at and installing the Draw-Tite Front Mount Trailer Hitch Receiver. Part Number 65069. All right. Here's what our hitch looks like installed. As you can see, it tucks up nicely underneath our front bumper here and doesn't really stick out much past where a license plate would sit. It is recessed behind the push part here of our bumper by our fog lights.
Front Mount Trailer Hitch Installation - 1996 Jeep Wrangler
Today we are going to install part number 65048, our front-mount hitch, and we are going to install this on a 1996 Jeep Wrangler. The next thing we will do is show you where the hitch resides on the front of the vehicle. Most of the time you expect it to sit on the bottom of here, but in the Jeep style, the way the frame is built, the actual hitch sits on top, and that is where it is going to ride. What is going to happen next is we are going to take out the hardware and use the existing bolt holes under the plastic tube. So we put our hitch on first and just lay it on the top as we trace around it. So that is where we are going to cut around the plastic and put it back on when we are done. This is going to be identical on both sides. So let us start disassembling and get the trim piece off.
Jeep Wrangler Front Hitch Questions and Answers