Shipping Information
Transit Days
UPS transit and delivery days are Monday-Friday
USPS transit and delivery days are Monday-Saturday
Delivery Method
Economy Shipping - Delivered by USPS or UPS
Free Shipping - Delivered by USPS or UPS
Priority Mail - Delivered by USPS
Ground - Delivered by UPS
3-5 Day Express Shipping - Delivered by UPS
3 Day Shipping - Delivered by UPS
2nd Day Shipping - Delivered by UPS
Next Day Shipping - Delivered by UPS
Holiday Shipping Schedule
Memorial Day - UPS closed, no shipping or delivery of packages
Independence Day - UPS closed, no shipping or delivery of packages
Labor Day - UPS closed, no shipping or delivery of packages
Thanksgiving Day - UPS closed, no shipping or delivery of packages
Day after Thanksgiving - Normal pickup and delivery of all UPS service levels
Dec 24th - Christmas Eve - etrailer closed, delivery of packages only
Dec 25th - Christmas Day - UPS closed, no shipping or delivery of packages
Dec 31st - New Year's Eve - Delivery and Pickup of air packages only, ground transit closed
Jan 1st - New Year's Day - UPS closed, no shipping or delivery of packages
When UPS Tracking Says "Billing Information Received"
The order has been shipped from our Missouri warehouse. Usually if the tracking number states "Billing Information Received", the UPS label has been wrinkled or scratched, preventing UPS from being able to scan the item. When this happens we are not able to view the progress of the package, but they are still manually sorting and shipping the package. Please contact us by email or call 800-298-8924 (Monday-Friday 7am-8pm, Saturday 9am-5pm and Sunday 12pm-6pm Central Time) and we would be happy to tell you when you can expect delivery.
Shipping to a P.O. Box
We offer shipping by Priority Mail for delivery to a Post Office Box. We only recommend the use of Priority Mail for shipment to FPO or APO addresses. Due to postal regulations, shipping is not available on some items. We recommend UPS shipping to a work or neighbors address in most circumstances where a P.O. Box is the only valid shipping address.
Shipping to an address that is different than the billing address
We can ship orders to an address that is different than the credit card statement billing address. When placing your order simply enter your shipping information on the left, under the Ship To: heading. Then if the credit card billing information is different you can fill in the section on the right under the Bill To (If Different): heading. You must provide the billing information exactly as it appears on your credit card billing statement. Please allow additional time for us to process your order due to the additional security steps required.
Order pick-up
We have a Will Call Center located at 1507 Hwy A, Wentzville, Missouri. Customers should call and place a will call order before coming to see us. Our Will Call hours are as follows:
Monday - Friday: 8 am - 7 pm (all times Central)
Saturday: 9 am - 5 pm
Sunday: 12 pm - 6 pm
Also, we do not allow customer pickups of products at the warehouse locations. The warehouses are shipping locations only and product availability varies by warehouse. Your order will be automatically routed for efficiency.
Canadian Shipments
For shipments originating from the US into Canada, the quoted shipping costs does not include all brokerage fees and duties. Taxes are not included. All prices on our site are in US Funds. Your credit card company will convert the US charge to Canadian.
International Shipments
Currently, we ship only to the United States, Canada, Puerto Rico, the Virgin Islands, Guam, and FPO or APO addresses. Both the shipping and billing address must be an address in the United States, Canada, Puerto Rico, the Virgin Islands, Guam or a FPO or APO.
How to Determine Shipping Cost
Step A: Simply click
next to the item you want to purchase.
Step B: Once the item is in the cart you will be able to check the cost of shipping by clicking on Calculate Shipping.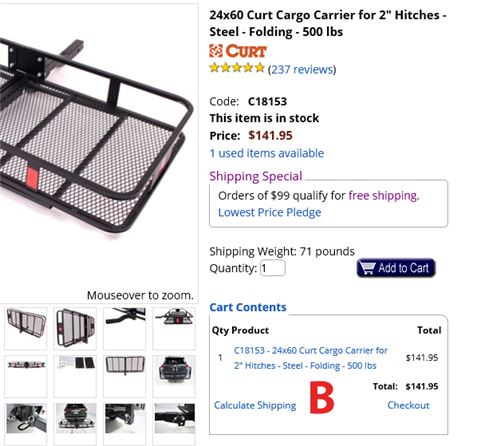 Step C: Enter the zip or postal code of the shipping address.
Step D: Click on the Calculate Shipping button to view your shipping options. After clicking Calculate Shipping, all of the shipping options that are available to you will be displayed.
You can also see the shipping options by clicking on the cart in the top right hand corner of the screen. Clicking on the cart will take you to the checkout page where you can view details of your cart's contents and calculate shipping charges.