Lippert Components RV and Camper Steps - LC3722616
This 10-3/4" deep motorized step automatically extends and retracts when you open and close your RV door. Non-skid stepping surface ensures solid footing. Includes motor.
Features:
Power steps make it easy to get into or out of your RV
Motor automatically extends steps when you open your door and retracts steps when you close your door

Power switch lets you override unit to keep your steps extended
Steps will retract if you start your RV regardless of if power switch is on or off

Automatic shut-down feature stops extension if the step strikes an obstacle
Reflective strip provides additional visibility in low light conditions
Weatherproof wiring with sealed connectors stand up to the elements
Non-slip tread on step surface ensures solid footing
Sturdy, powder coated steel construction resists corrosion

Solid steel drive rods and stainless steel bushings provide additional durability
Air pressed rivets at pivot points ensure long term strength

Motor included
Made in the USA
Specs:
Entry height: 13-1/2"
Step dimensions: 24" wide x 10-3/4" deep
Mounting bracket dimensions: 25-1/4" wide x 7-7/8" tall x 11-3/8" deep
Drop/Rise: 7"
Weight capacity: 300 lbs
90-Day limited warranty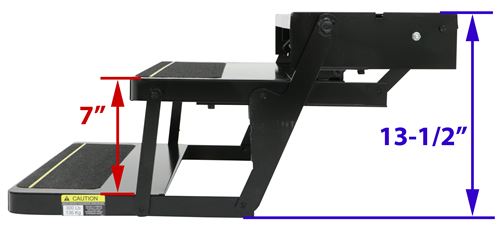 Automatic Operation
These motorized RV steps make getting into and out of your RV simply effortless. They automatically extend when you open your RV door and retract when you close it - unlike manual steps that must be pulled out and pushed back in.
The included door switch has 2 pieces. One piece mounts on the door frame and the other piece mounts on the door itself. When you open the door, the switch is activated, causing the steps to extend. When you close the door, the switch signals the steps to retract.
Because these steps wire to a power switch inside your coach during installation, you can override the automatic operation by simply turning that switch off. When you turn the power switch off, the steps will remain extended or retracted. This is convenient when your motor home is parked and you want your steps extended at all times so that you can easily get back into your RV. As a safety precaution, the steps will retract when you turn on the ignition, even when you override the automatic operation, just in case you forget to retract them before driving away.
Obstruction Detection
If an obstruction is detected while the steps are attempting to extend, the steps will stop extending and reverse back into the retracted position. This feature helps to prevent damage to the steps and to your RV, and it can help prevent injury to passengers.
Safe, Non-Slip Surface
For added safety, the steps are covered with a non-skid, textured coating. This textured surface provides traction and ensures that you have secure footing even when the steps are wet.
Durable Steel Construction
Kwikee motorized steps are made of powder coated steel to ensure many years of dependable use. And the solid steel drive rods offers the strength and durability that you demand from an RV step. The black powder coat finish provides a sleek look plus added protection against the elements.
Simple Installation
Installing the steps on your RV is simple. Pre-drilled holes in the steps' mounting bracket match up to holes in your RV's frame for an easy bolt-on installation. You will need Lippert's mounting hardware kit (LC118155-72 - sold separately) to bolt the steps into place. Use 2 carriage bolts and 2 locknuts on each side to attach the mounting brackets to your RV's frame. Outriggers (LC301704 - sold separately) may be needed for installation depending on the model of your original stairs. Powering the steps is simple because the included 4-way harness lets you connect to your RV and then plug right into the steps.
3722616 Lippert Components (LCI) Quickee 32 Series Power Step - Two Stairs - 7" Drop/Rise - 24" Wide - 300 lbs