Customer Reviews
Brophy RV Scissor Steps - 4 Steps - Aluminum - 24" Wide - 31" to 39" Tall - 300 lbs - AS24
Average Customer Rating: 4.8 out of 5 stars (58 Customer Reviews)
Lightweight aluminum scissor steps make it easy to enter and exit your RV. The 4-step assembly has 24" wide steps with non-slip tread. Stairs expand from 31" to 39" tall and fold up for storage. Mounting bracket and hardware included.
- AS24
by: B.D.09/19/2014
Steps were as advertised. Well made, sturdy, quality construction. I choose not to mount the steps on the door wall, as there would be a large (5 1/2") gap from the camper to the first step (others have commented on this). I was able to mount under the camper, on a filler platform I have to use to get my camper above the truck bed sidewalls. This made the gap less by a few inches. One size does not fit "all", as the steps are out of level (mine are mounted at 32"). Perhaps the 3-step configuration would have been a better fit. I am considering modifying the bottom riser, cutting 3 inches off to better level the steps. Non the less, a great product, I would buy them again. 152149
Comments
The steps are still great. We like them very much.

B.D. - 09/19/2015
15098
- as24
by: ROBERT B03/18/2014
2014 SILVERADO WITH A 2014 NORTHSTAR POP UP CAMPER . 3 STEP MODEL WOULD HAVE BEEN BETTER BUT THIS WILL WORK . THESE ARE VERY STURDY AND RAPID TO ATTACH AND DETATCH . VERY PLEASED SOON TO UPLOAD PHOTOS OF THE 4 STEP AFFIXED . ENTIRE PACKAGE WAS A PERFECT MATCH . THE STEPS WORK WELL , HOWEVER ON MY NORTHSTAR CAMPER THE SPACE ON THE FIBERGLASS BETWEEN DOOR BOTTOM AND CAMPER BOTTOM ( 1" ) IS TOO NARROW FOR THE BRACKET ATTACHMENT . SO A SLIGHT MODIFICATION ACCOMPLISHED THE TASK . MY ONLY REGRET IS THAT I HAD PURCHASED THE THREE STEP STAIR VS THIS FOUR STEP VERSION . ANGLE A BIT LAYBACK BUT MAYBE ONLY I WOULD NOTICE IT . YOU JUDGE . GREAT , STURDY SAFE AND FAST ASSEMBLY UNIT . THANKS 121171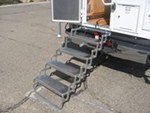 Click to Enlarge
- AS24
by: Pat B03/07/2015
Hi George, I ordered the AS24 steps on Monday afternoon and before dinner I had confirmation of my order and that is is being shipped. It arrived here in Mn on Friday. Extremely fast service. I opened the box and set the steps up against my work bench and am impressed with the quality of your product. Will not be putting my camper on for about 6 weeks but I will certainly take a picture and email to you for your use. An experience far above the average manufacturer I have dealt with online with only reviews to guide me. Appears you really value and appreciate your customers. Thanks a lot, Pat in Minnesota 177383
- AS24
by: Marty S05/27/2015
Ordered this set to replace a steel stair set. Although this set is 6 inches wider, it is lighter and easier to use. I have arthritis in my wrists so the weight factor and ease of use was important. The quality is very good as I would expect from Brophy. Price was very competitive with other suppliers and I was kept informed of a delay and a offer to substitute another set was made. I stuck with the original order and was surprised to get it three days later. I have bought from e trailer in the past and will probably do so in the future. They offer great service and a quality product line. 198301
- AS24
by: Vicky09/12/2015
We love our new stairs! My husband had to create a platform with which to attach our stairs to access our really old, small, HIGH, cab-over camper --& we are thrilled with the quality and simplicity of the stairs and ease of installation. We have an old dog who travels with us. The stairs had to be suitable for HER as well as for us. We definitely test the weight limitations / capacity of the stairs and are thrilled that they appear to be withstanding the abuse. We feel we got lucky to find etrailer. 225119
- AS24
by: Don05/13/2015
Wow. You have to see it to believe how great the Scissor Steps work. I first saw the Scissor Steps on a truck where I was camping. and asked about them. He was kind enough to show me your web site. He showed me how easy it was to put them on and off. I have been using a plastic step type ladder for several years and fell once. It was unstable and the door opening was so high. This is a snap,so easy. I would like to find a bag to put them in for storage. If I my quote, Try it you will like it. 192514
- AS24
by: Ed I02/27/2015
They are a good quality product. I have a Ram 2500. Tow a fifth wheel so I have rails in the bed. I placed 2x4's in the bed so my camper will sit level. Mounting bracket was fastened to last 2x4 under camper door. Make sure door clears bracket...just like it says in the instructions. Dropped the steps onto V carrier and your done. Very easy installation. Solid steps...no more wobbly ladder to deal with. I'm very satisfied. 176359
- AS24
by: Mark Fisher03/19/2012
Great Product!!! I mounted the bracket and used the steps on my camper yesterday. Very easy to install the bracket and the step went on very easily. It took only 15 minutes. I have only 1 issue, the space between the top step and where the steps hook onto the mounting bracket is a little wide. I also like the weight of the steps, they are very light and even my wife can carry them and install them with no problems. 34378
- AS24
by: Kris P.04/23/2015
We have a little different camper setup. The camper is made for a small truck where ours is a short bed 2500 lifted. We built an adaptor base so it will fit snuggly in the bed. It also had to be raised 9 inches to clear the cab. These steps are perfect! They are high quality and construction. Couldn't find anything that would work until I found these. Shipping was very fast and arrived on time. Thanks 187684
- AS24
by: Rob E08/05/2013
I had a set of these steps on my slide-in truck camper. I came home from a trip and they were gone. Don't know where i left them. There are other ways to access the camper, but these folding steps are the best. We found the best price anywhere from etrailer and delivery was immediate and free. Fit and finish was perfect. I will definitely use these guys for stuff in the future. 93380
- AS24
by: Cliff06/26/2013
I looked at quite a few vendors for this product and found the lowest price at etrailer.com. It took me about 10 minutes to mount the step system to my Palomino Bronco 1500 and now the access in and out is a breeze...no more short step ladders. Shipping was fast and the product is sturdy and well built. I would recommend etrailer to anyone. 86280
- AS24
by: Jim Nugent06/06/2014
Perfect. The first place I went the price was $375.00 for a similar product. The second place was Camping world...price $350.00. I have to admit that I wasn't expecting to pay so much, but $234.00 was a lot better price and they look like they will last a very long time. I will consider your company in the future. Thank you, Jim 134573
- AS24
by: dave l12/24/2013
Very pleased with the quality of these steps. Even though I have not attached to camper, need to weld a bracket then bolt on steps, I did place then against a workbench and used the first 2 steps. They are very sturdy and stable. Camping here will not start until April at the earliest, I can hardly wait. 111080
- AS24
by: Step Alum Scissor Step 31-39 24 Wide04/19/2015
Thanks for your great service in getting my steps to me in time for my camping trip - and ensuring safe entry and exit from our truck camper. Very easy to install and super easy to hook on and quickly un hook for a quick get away. Thanks again George. John Wakefield, Tucson Arizona 186370
- AS24
by: pakinup06/02/2014
Love, love these steps. They are very well built, extremely sturdy and installed very easily. The shipping was very fast and in fact the steps arrived a day earlier than scheduled. We couldn't be happier with this transaction, will definitely do business with etrailer.com again! 133693
- AS24
by: S. Smith08/22/2014
Bought the 4 step to ease access into the back of my truck camper that's 39" off the ground. Man, these are great and very stable! Construction is rock solid and workmanship is first class. Very easy to use and wish I'd bought them a lot sooner. Shipping was fast too. Thanks! 147987
- AS24
by: AS2406/09/2015
I installed the Brophy RV Scissor Steps on my fifth wheel trailer. The instructions were clear and the total time was less than 20 minutes. The steps work great and look good too. I have no complaints with the product nor with the ordering process and delivery. Jim W. 201900
- AS24
by: Charlie V08/01/2011
Very nice, easy installation, well made. Shipping was extremely fast. I thought that the steps were for permanent installation but they have to be removed while travelling. Ok though, because it is very easy to remove and re-attach. Very happy with the deal. 20736
- AS24
by: Tim B05/07/2015
This is extremely well made. It is easy to install and use. Etrailer had the best price and extremely fast delivery. Plus, they followed up to make sure I was happy. I would recommend this product and company to my family, and anyone else who might ask! 191189
- AS24
by: Rebecca C.09/27/2015
These steps are awesome! Best price out there and we are impress with the quality. So much better than what we had. My husband has problems lifting, I can easily lift and attach them. Even our 5 yr old granddaughter said "Cool steps Grandma and Grandpa." 227940
- AS24
by: Phil F.06/06/2015
Perfect on a 2015 3/4 ton Chevy with a bigfoot camper. 39 inches from ground to door. Great company. Told me when they received my order, told me when it shipped, received it in Seattle very quickly. Cost was about half of everything else I found. 201151
- AS24
by: Lee07/12/2015
Great looking steps. They were easy to install in minutes. Steps seem to be strong and very sturdy. Our only concern is the large hole in front of the top step, between the top step and the camper. A slip or misstep could be very painful. 211174
- AS24
by: Quill09/20/2014
The lady I placed the order with was pleasant, the stairs arrived early. They look great. Still getting them installed, it requires more than just lag bolting them on as other reviewers have stated. Would order from etrailer again 152264
- AS24
by: Mike D.05/11/2012
Have not had time to put these steps to a real test, but initially they look like a good, sturdy well-made product. Installation was a snap, the only problem being that they shorted me one lag bolt (five holes, but only four bolts). 40041
- AS24
by: Linda L.08/15/2012
They went out of their way to ensure we had this for our trip. Even sending it out on a Saturday to our destination---without us having to pay extra for shipping! It was there and ready to use when we arrived. Thanks so much! 51747
- AS24
by: Eli Allen04/12/2015
Better than I expected. 184783
Click to Enlarge
- AS24
by: CJ07/15/2013
These steps went on my Citation camper that sits at about 38" off the ground on my 2002 Dodge Ram. I did have to modify them a bit to attach them, but I could not be more pleased with the end result! 89584
- AS24
by: Tom Tharp01/21/2015
Great product extremely easy to install drilled 4 holes used bolts instead of screws. my height was 37in. from ground 4 step was perfect size. steps are stainless and frame is alum. 170662
- AS24
by: Eldora05/13/2015
Worked just as we wanted it to! We did add a 2x4 under the camper to get extra clearance for wiring. maybe wouldn't have needed to but we did. Thanks good product at a fair price 192656
- AS24
by: Terry Y.08/25/2015
I had no problem installing the steps. I really like the no slip stairs . I always worried when my other stairs got wet. Should not be a problem now. Well made stairs ! 221636
- AS24
by: Jim12/20/2010
camper steps Quality product that installed easily as described. Excellent service from etrailer.com. I have never received better service from an online store. 4394
- AS24
by: Kenneth J.06/15/2012
Rec'd my steps today. Easy installation of a fine product. Steps are wide enough to retain our balance, (we are both in our seventies). Much appreciated. 44400
- AS24
by: DENNY D07/23/2014
I'M HAPPY WITH THE STAIRS BUT THE CLEARANCE UNDER THE DOOR WAS LIMITED. I HAD TO GRIND DOWN THE BARS ON THE MOUNTING BRACKET SO THE DOOR WOULD CLEAR. 142657
- AS24
by: Ted01/25/2012
These are the best truck camper steps I've seen any where. They are very sturdy, easy to mount, and deeper (8") than most of the others on the market. 30286
- AS24
by: Kevin02/24/2015
Ordered the brophy scissor steps for my pop up truck camper. They arrived as expected, fit perfect, and are a great addition to my rig. Very happy 175837
- AS24
by: Fran M.08/17/2015
The aluminum stairs are well built and easy to install. The shallow angle makes walking up easy. I will do business with Etrailer again. 219756
- AS24
by: Jack B11/21/2014
Great product. Exactly what I was looking for. Shipped on sat and got it on Tuesday. Look great on my camper. Thanks for the quick service 162067
- AS24
by: David W07/21/2015
This unit is so much stronger than the two previous collapse-able steps that we've used. IT IS SOLID! I would recommend them highly. 213366
- AS24
by: Jackman/Vermonter10/01/2014
Great steps, good quality, good price and good. Delivery! Wish I could say that for all mail order company's but I cannot. 153940
Comments
Just great. Have been up and down these stairs multiple times and they are sturdy, light and worth the money.

JackmanVermonter - 10/01/2015
15380
- AS24
by: Bob B.05/07/2015
Great product, just what we were looking for. Great quality steps very strong. Thank you. Will buy again from etrailer! 191303
- AS24
by: warren j.02/17/2015
Not mounted yet, but looks good and sturdy. Will be put on my tailgate to slide in an SS-550 Palomino, which is on order. 175058
- AS24
by: Bob D.09/02/2015
I have not installed as of yet, but I really like the looks of quality, will let you know in a couple of weeks. 223513
- AS24
by: Doug C08/24/2015
Easy to install and very sturdy. I can now get into my camper without having to take extra steps along. 221492
- AS24
by: John B.06/04/2015
Steps are as good as they look in the pictures. Plenty sturdy. Work fine with our pickup camper. 200410
- AS24
by: Stan S06/20/2013
Steps fold up ncely, there strong and solid. Not flimsy by any means. Very happy w/ end results 85358
- AS24
by: Pete09/27/2015
Have not installed yet ut they appear to be quite sturdy. shipping was great like always 227936
- AS24
by: mert11/21/2013
only received yesterday. not installed yet. does look like the quality I was expecting. 108034
- AS24
by: Fred R10/13/2012
Stairs arrived in perfect shape. They are very sturdy as advertised. Very nice product. 57141
- AS24
by: Jim Waterman04/20/2015
Product works great. Just took them on their first outing and very impressed. 186526
- AS24
by: Carole E07/11/2014
We are very pleased with the quality,size and stability. Thank you. Carole 140892
50
58
Show More Reviews