Blue Ox Weight Distribution - BXW1503
Shank fits 2" hitches and offers up to an 8" rise and a 2" drop. Clamp-on system uses optimal points of tension to help prevent sway while it balances your trailer's load for a more level ride. Works with underslung couplers.
Features:
Evenly distributes weight over axles of tow vehicle and trailer for stability and control

Creates a level ride for both tow vehicle and trailer

Built-in sway control helps to prevent trailer sway

Constant tension in trunnions helps force trailer in line
Rotating lift brackets ensure that chains are tight and secure to keep spring bars from moving

Trunnion spring bars flex for a controlled, even ride

Automatically lock in place and easily remove
Interchangeable with other Blue Ox spring bars (sold separately) to raise or lower the weight capacity

No pins or clips needed - self-locking devices function throughout system

Easy-to-operate bracket locks automatically secure rotating brackets in place and release with push of lock pin

2 Grease zerks inside head assembly make maintenance simple and clean
Unique, rotating-latch lift brackets connect spring bars to trailer

Quick and simple to use - insert lift chain into slot and rotate bracket with wrench
Clamp-on design - no drilling needed

Required tilt is built into head assembly - no adjustment needed
Powder coated steel construction
System includes head assembly, adjustable shank, spring bars, lift chains, rotating lift brackets with handles, reducer bushing for ball shank, pin and clip, and all necessary hardware

Hitch ball sold separately - requires 1" or 1-1/4" diameter shank

Made in the USA
Specs:
Tongue weight: 1,000 lbs - 1,500 lbs
Gross towing weight: 15,000 lbs
Fits: 2" x 2" trailer hitch receivers rated for use with weight distribution systems
Designed for use on trailers with bottom-mounted couplers
Lift-bracket positioning: mount about 29" back from hitch ball
Shank length:

9" From center of hitch pin hole to center of adjustment holes
10" From center of hitch pin hole to front of shank
8" From center of hitch pin hole to back of shank
13" Overall

Total height adjustment along shank: 8-3/4"

Maximum rise: 8"
Maximum drop: 2"
Overall height: 10"
Holes are spaced 1-1/4" apart on center

Limited lifetime warranty
Included w/ BXW1503
Required - Sold Separately
Optional Add-Ons

Adjustable Shank
System Head
Lift Brackets
Spring Bars

Hitch Ball w/ 1" or 1-1/4" Diameter Shank

n/a
Create a stable ride for your tow vehicle and trailer with a weight distribution hitch. Adding spring bars to your towing system applies leverage, which transfers the load that is pushing down on the rear of your vehicle to all the axles on both your tow vehicle and your trailer, resulting in an even distribution of weight throughout. The result is a smooth, level ride, as well as the ability to tow the maximum capacity of your hitch.
Selecting a Weight Distribution System
The tongue weight rating is the most important factor in determining which size weight distribution system you should use. If the bars of the system you choose are rated too high for your setup, they will create a rigid ride, which can result in a bouncing trailer. If, on the other hand, the bars are not rated high enough, the system will be unable to properly distribute the weight, rendering it virtually useless.
To determine the proper weight rating for a weight distribution system, you must first determine your trailer's tongue weight. Then add to that the weight of the cargo behind the rear axle of your tow vehicle. These two measurements make up the tongue weight rating for a weight distribution system.
Unique Features of Blue Ox SwayPro
Unlike other weight distribution systems, the SwayPro has automatically locking brackets throughout. Both spring bars insert, slotted side up, into the head assembly and then lock securely in place. Removal is just as easy - simply lift the locking pins on the trunnions and slide the bars out. Blue Ox spring bars are interchangeable with each other. If you buy a new trailer or tow vehicle and you need to increase or decrease your capacity, you can simply buy new spring bars instead of purchasing a whole new system.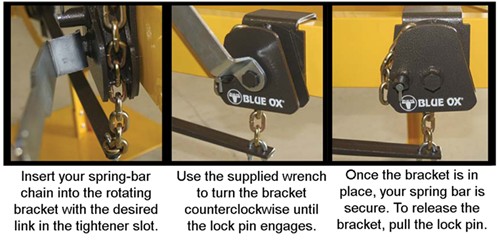 Other systems have lift brackets that require you to apply a good amount of leverage to get them to snap up, which can be difficult and frustrating. With the SwayPro, all you have to do is insert the lift chain into the bracket slot and rotate the bracket with the included wrench until the lock pin engages.
Another feature of the SwayPro is the easy-to-use head. The required pitch is already built into the head, so the only adjustment that may be needed is the placement of the head on the shank. Move the head up or down along the weight distribution shank to achieve the proper height. No additional, fine-tune adjustment is needed, which means no hard-to-access washers or difficult-to-use thumbscrew.
Built-In Tension Stops Sway
The SwayPro offers four points of built-in sway control. Within the head assembly, the trunnions are designed to hold the spring bars securely in position, placing just enough tension on them to cause them to constantly force your trailer in line. At the other end of this weight distribution system, the rotating brackets ensure that the lift chains are pulled as taut as possible. In addition, the basic design of the brackets keeps much of the length of the lift chains wrapped up inside of the brackets. Typically, only a couple of links hang down from each bracket. So each chain is held more stable than in traditional weight distribution systems, where more than twice as many links are exposed. This tight, stable design limits the movement of the spring bars so that they can exert more force on your trailer to effectively keep it from shifting side to side. Furthermore, unlike many friction-style sway controls, the SwayPro allows you to back up your trailer without having to remove or disengage the system.
BXW1503 Blue Ox Sway Pro Weight Distribution Hitch for Underslung Couplers - Clamp On Brackets - 15,000 lbs
Installation Details

Customer Reviews
Blue Ox SwayPro Weight Distribution w/ Sway Control - Clamp On - Underslung - 15K GTW, 1.5K TW - BXW1503
Average Customer Rating: 4.7 out of 5 stars (84 Customer Reviews)
Shank fits 2" hitches and offers up to an 8" rise and a 2" drop. Clamp-on system uses optimal points of tension to help prevent sway while it balances your trailer's load for a more level ride. Works with underslung couplers.
- BXW1503
by: G3ck009/26/2016
I have been very happy with the performance of this hitch. Our first time out I was on a cross wind that was very harsh and was worried with my 36'. Unlike other trailers on the road, I was not fishtailing. I was still fighting the wind, but was not all over the road had I used a different setup. My only issue is the difficulty of getting the chains on and off without them popping. Other than that, I highly recommend for stability!!! 299824
- BXW1503
by: Scott G05/07/2015
The product is great but the customer service needs to be dealt with. I ordered what I thought was the right sway controll bar and they sent me the wrong one to start with, then I ordered the right one and they sent it to me, but I have yet to recieve my credit on my card. They told me a week ago that it was already back to you and I don't understand why we have not recieved our credit on our card yet. Scott Gard 191085
- BXW1503
by: Matt S.07/24/2015
Simple to order, received on-time, in good condition, simple to setup, and works well. Can't expect more from an online transaction. Well done. 214112
- BXW1501
by: Bill R10/01/2013
Review from a similar Blue Ox SwayPro in Weight Distribution
Finally got around to installing the Blue Ox Sway Pro hitch with bolt on chain latches. The process was straight forward after viewing youtube vids, taking time to be sure all my measurements were correct. With the bolt on chain latches you do not get many chances to get it right. I could not use clamp on as my V-nose RV did not have room above the frame to clear the clamp on latch.. drilling was a pain as clearances on my frame were tight and I had to go around a electrical junction box on the inside of the frame.. but once on, it was a breeze to set up. The overall quality of the hitch was great and I don't miss having to set the angle of the hitch head (it's fixed) making the only adjustments necessary was hitch height and chain length. I initially set mine up using 9 links on the chain, but once I got out on the road, I noted the RV was riding nose low so I went up to 10 links on the chain. Now the truck and RV are level, the truck rides and handles as I expected. I have not had the rig out on a long haul, so I can't comment about the sway control of the hitch.Truck is a 2013 Ford F150 ecoboost, max tow 3.73 gears, rv is a 6600lb (empty) V-nose 25ft toy hauler. I like the chain latch set up. Easy to use especially on a V-nose trailer. The concept of sway control with the short length chain is feasible and after this week trip (with some interstate time), I will report back if it doesn't work as advertised. All in all I am happy with the hitch and of course happy with the eTrailer purchasing process. 102170
Comments
A year later and we have used this hitch many, many times and couldnt be happier with the purschase. Hook up is a breeze. Have had the chance on several occasions to get on the Interstate with the big trucks and wind and the sway control works. I am very pleased with the hitch. Thanks Blue Ox and eTrailer!
Bill R - 10/01/2014
7068
- BXW1000
by: Richierod05/27/2016
Review from a similar Blue Ox SwayPro in Weight Distribution
Let me start off by saying why I wanted sway control. My first trip up Oregon's I5 between Eugene and Portland with my 28' Komfort Lite trailer in a moderate cross breeze, lots of semi's and fast traffic. Not a good first time experience, slowed from 60mph to 50mph to make it tolerable for me. Saw other trailers zoom by me at much faster speeds and looked to be pretty solid-no sway. Had no clue which system to choose, so I looked at all that was available on the site. Many looked very complex and the reviews on each were mostly positive. So, I choose to go simple with the Blue Ox, easy 20 min bolt on. Did have to make a 1/2" adjustment on the latch brackets, as per the instructions, to have the chains straight up and down. I haven't been on the road yet, but my initial hook up attempt has highlighted a couple of issues. First, with all the tongue weight on the TV, there is no way you will be able to attach the chain where you want it. No biggie, as with the old system, just use the tongue jack to raise everything up until you can get to the link you want. Had to go higher than I was used to, but still OK. Second, when unhooking (again, with weight on tongue jack), knuckles come very close to the spring bar on one side. Don't get distracted when rotating the latch to release the chain! Also, the chain wants to "snap" out of the slot at some point when rotating. I may want to retire the supplied wrench and go with a socket, short extension, and breaker bar just to keep my hands away from these potential hazards. As always, the ordering process was great. Helps a lot when everybody understands what you are trying to do, then convey what you need. Rich 252276
- BXW2000
by: Craig07/27/2015
Review from a similar Blue Ox SwayPro in Weight Distribution
The hitch was delivered today. Everything arrived in good condition and I was pleasantly surprised that the hitch has a 2 1/2" shank. The hitch seems to be very well made. The welds are nice and the finish (powder coat?) looks great. I'm looking forward to getting this mounted and taking the trailer out for a trip. 214850
Comments
The hitch works very well. Im not a fan of the wrench Blue Ox supplies to rotate the cams. I had a situation where the pin didnt lock the cam in place due to dirtsnow/ice but didnt notice. When I relaxed the tension on the cam, it rotated back down and smacked my had against the frame rail. I now use a 15 breaker bar with a 3 extension to give my hand some clearance- just in case it happens again!
Craig R - 07/26/2016
19669
- BXW1000
by: Ron I08/09/2014
Review from a similar Blue Ox SwayPro in Weight Distribution
I have been installing the hitch and the 26000 lb 2&5/16" ball that I ordered. All went well until I tried to install the ball which has a 1& 7/8" nut which requires a socket to tighten the nut in the hitch enclosure. Not having that size socket I could not find one that size in the local retail stores. I have resorted to buying an Altrade socket on line from Home Depot for $14. Hopefully it will fit in side the hitch nut enclosure. 145514
Comments
Installed theSwayPro WD system and found it worked well until recent trip. Decided I need the 1500 bars because od additional weight.
Ron I - 08/10/2015
14097
- BXW1500
by: Robert M.03/30/2017
Review from a similar Blue Ox SwayPro in Weight Distribution
For Etrailer, A+ for excellent customer service as usual! Shipping was very quick. Regarding the hitch, I think this one is going to be a real winner. Installation was quick and easy. Anyone with basic tools can easily install and setup this hitch. The only thing most people won't have is the 1 7/8" socket needed to tighten the nut that secures the ball to the hitch itself. You'd also need a torque wrench or impact wrench that can achieve [specs]. Instead, I just took it to a local shop. It took them two minutes and they didn't even charge me. After installing and setting up the hitch, I took measurements of the height of the truck's front fender both hitched and unhitched. It was exactly the same, which as I understand is ideal. Without any weight distribution, the front of the truck rises about 1/2" when you drop the trailer on the ball. I haven't towed with the new setup yet, but I expect it to do really well based on what I'm seeing so far. I'll come back and update after my first trip next week. 360559
- BXW1500
by: Al T08/31/2016
Review from a similar Blue Ox SwayPro in Weight Distribution
I have both an Equalizer and this Blue Ox hitch. I purchased the Blue Ox after I complained of a poor ride with my travel trailer to the dealer. They recommended Blue Ox instead. Frankly it didn't improve the ride at all. Worse, the bars hung so low that they scraped on every speed bump. However this was exacerbated by the way I had to set it up to make the ride at least tolerable. I have now changed travel trailers and tried both hitches on the new one. The new travel trailer sits significantly higher and rides much better. I don't have the problem of the bars hitting the ground. The ride also seems much better then when I use the Equalizer. The final problem I have with this hitch is the that saddle that holds the chains seems to stick very frequently and requires that I release the pin and force it to release the chain with the provided wrench - resulting in frequent minor injuries. Not sure why this happens but I'm getting better at forcing the release with no injuries. Just irritating. 289769
- BXW1500
by: Aaron P.02/04/2015
Review from a similar Blue Ox SwayPro in Weight Distribution
I replaced a broken old Eaz-lift hitch with this one on a 10k cargo trailer. The difference in ride quality is night and day. Well worth the step up in price. I feel like I'm driving a Cadillac compared to before. Set-up was easy, instructions were clear and concise. I greatly enjoyed not having to set the angle as it is built in. (Less to adjust, less that can go wrong/break). I do a lot of backing up at sharp angles as I use my trailer for food deliveries in tight spaces behind small restaurants/stores. I've not had any issues with this hitch while doing so. My load weights also vary greatly from beginning to end of day (full vs. empty). It is as smooth empty as it is full. The bars have a broad tongue weight rating range which works great for my application! I've not had it long enough to comment on long-term durability, but it is built tough and engineered smart. I expect it to last as long as I do. You get what you pay for. Great product! 172406
- BXW0550
by: Matt W.08/06/2015
Review from a similar Blue Ox SwayPro in Weight Distribution
Outstanding service! I ordered several components from etrailer late afternoon and I received them the next day. Everything was well packaged and nothing was missing. I was also told to call if I had any questions. We'll use them again. 217215
Comments
This is a wonderful product. We pulled a 25 travel trailer on a long trip last year and I didnt have to worry about any sway on any road. The Blue Ox handles cross winds easy also. Very easy to use, I wouldnt buy anything else!
Matt W - 08/05/2016
19939
- BXW0750
by: Paul A02/09/2016
Review from a similar Blue Ox SwayPro in Weight Distribution
I had the unfortunate experience with having your new airstream 20' taken out by a hydroplaning car last month. The airstream rolled right and on to its side, and the hitch released keeping our Suburban from rolling. The stabilizer bars and chains maintained the trailer connection and eased the stop with the rear tires of ground. The hitch bent the receiver on the truck, and the only damage appeared to be one " sprung" spring bar. A good result from a bad experience! 237404
- BXW1000
by: Alan B01/10/2014
Review from a similar Blue Ox SwayPro in Weight Distribution
Ordered this at the recommendation of some fellow campers. Very well built and easy to set up. ETrailer had this in my hands very quick. Ordered on a Tuesday evening. Received it Thursday afternoon! Wow. Thanks Folks! 112457
Comments
Well still very pleased with the Blue OX! Awesome hitch and all of my camping buddies are amazed at how easy this unit it to hook up.
Alan B - 01/11/2015
8541
- BXW1500
by: Johnh07/18/2016
Review from a similar Blue Ox SwayPro in Weight Distribution
First one was super easy to install, although it is absolutely heavy. Adjustment was easy. Attaching and detaching to the trailer is easy. I am at the maximum towing capacity of my truck, and this hitch works. No sway, no lift in the front. The back does squash down quite a bit, but I have a 100% stock suspension; no airbags. My hitch was stolen. Someone broke the lock and removed it. I quickly purchased another one. This would have been a 5 star rating, except for the shank of the second hitch. There seems to be too much powder coating on the shank. Even with some persuasion, I am unable to put the shank into the receiver. I submitted an issue to etrailer and look forward to hearing from them soon. I have had nothing but great dealings with etrailer and when I had to purchase the second hitch, I went straight back to them. 273180
- BXW0550
by: David Reed04/30/2013
Review from a similar Blue Ox SwayPro in Weight Distribution
This weight distribution system is the best. It is easy to install and if you need to put it on a different trailer that has a different weight you just have to buy new distribution bars. 78458
Comments
This system works great. Needs to have a better system to lock in the parts that go on your trailer rails. Sometime they come loose.
David R - 05/02/2014
3923
- BXW0750
by: Aaron06/18/2015
Review from a similar Blue Ox SwayPro in Weight Distribution
I contacted Blue Ox before ordering this setup. Gave them all the weight specs on my Tow vehicle and trailer. They recommended this weight range setup. Installation was clearly explained within the instructions included. Unfortunately I could not get the hitch to transfer any weight to the front of the truck nor could I get the truck to level out after connecting to the trailer, even after applying maximum preload to the spring bars. Leveling the trailer was simple, but weight transfer was not possible. I've requested an RMA to return this setup to Etrailer. I reinstalled my original Equalizer hitch setup that worked fine just noisy when making tight turns. I thought the Blue Ox would be an improvement. 204314
- BXW1000
by: Joe G08/07/2016
Review from a similar Blue Ox SwayPro in Weight Distribution
Using with a 27 foot Lance trailer and 2015 Jeep grand Cherokee. Shipping and packing from e trailer great. Hitch well made and easy to install. Replacing a Reese weight distribution hitch w/sway control that wasn't up to the job. Blue Ox controls sway well and tows much more smoothly-vibrations with old hitch eliminated. Only dissatisfaction is with the paint. Several nicks/chips in the paint as delivered and over time some rusting of the latch mechanisms. Called Blue Ox-they said no touch up paint available. Used some Rustoleum that somewhat matches the texture and color. Would really like some OE paint from Blue Ox! 281073
- BXW1000
by: laketime12/03/2016
Review from a similar Blue Ox SwayPro in Weight Distribution
After owning a couple other hitches including a Hensley the Blue Ox distribution hitch is my favorite and probably the only hitch I will own. Hooking up is easy enough however I would suggest using a socket attached to a break-over bar rather than the supplied wrench (just my opinion). I pull a 30ft Classic Airstream with a 3/4 ton HD Chevy Duramax and the Blue Ox with this combination is excellent. The only negative thing I have found about the hitch is over time it tends to get a little rust here and there so keep wiped down or touched up with similar paint. 321837
- BXW1500
by: James H06/15/2014
Review from a similar Blue Ox SwayPro in Weight Distribution
I have been using the Blue Ox SwayPro WD Hitch for 1,500 tongue weight on our 30' Arctic Fox travel trailer for one year now. No regrets as this hitch has been an easy to setup and use and it seems to do it's job nicely. Due to the height of our trailer's hitch I ordered a Reese Titan Weight Dist Shank to use with the SwayPro and the pair work great together. 135639
- BXW1000
by: Todd03/02/2013
Review from a similar Blue Ox SwayPro in Weight Distribution
The hitch was delivered in just a few days, earlier than expected. The hitch was exactly as described. The dealership attached the hitch to our Keystone Outback 298RE and Excursion without any problem. Our trip from Ohio to Colorado went without incident even though we traveled through wind, rain and snow. Hooking up the trailer with the SwayPro was no problem and very easy to use. 68467
Comments
What is your tongue weight on the blue ox ? I have a Keystone outback 277RL 35 feet and looking at a blue ox 1500 tw and wondering if this the proper one to buy.
comment by: Harry M - 06/29/2015
12920
- BXW1000
by: Jacie M.06/23/2015
Review from a similar Blue Ox SwayPro in Weight Distribution
Just took out of the box and hooked it all up. Took less than an hour to get everything out of the box and hooked up to my 36' TT. Quality looks really impressive. I know what quality looks like as my family business owns a high end sheet metal and fabrication shop. This is something if we made it would look like. I had my engineer look at it and he was impressed ! I hope this hitch, for the money, is worth it. I will write another review after the 4th of July when I haul it down the road and put it through testing. 206620
- BXW1000
by: Chris12/27/2012
Review from a similar Blue Ox SwayPro in Weight Distribution
So far the product works as advertised and was fairly east to install. It is far easier than other systems that we have had to hitch and unhitch. There seems to be little to no sway while trailering our 35' TT. As always etrailer was fantastic and delivered exactly as promised faster than expected. I will continue to use etrailer in the future. The only suggestion that I have for this product is that the tool for locking the chains up would be even better if the handle was rubber dipped. 62103
- BXW0750
by: Stork09/18/2015
Review from a similar Blue Ox SwayPro in Weight Distribution
The etrailer.com support before and after that sale was the BEST! Hard to believe how GREAT these people are!!!! The videos made installation easy. I am amazed how well built and HEAVY the Blue Ox is. I had to adjust the hitch height a few times, but now that it is done, I have NO problem quickly setting up the Sway Pro. It seem to perform well with pulling my Airstream and I consider the Blue OX well worth the money for the extra control and safety it provides. 226322
- BXW1500
by: Bruce Snow03/12/2015
Review from a similar Blue Ox SwayPro in Weight Distribution
Excellent company and product. After dealing with in my opinion less than professional dealership sending me on the road with a hitch setup at half the weight capabilities of what was required I was very pleased at the service and speed of delivery of this product. The installation of the hitch was simple and i quickly installed the hitch at about $200 savings from a supposed rock bottom price of the dealer. I feel safe now Great work etrailer Poor work Dick Gore 178002
- BXW1500
by: Gerryj08/05/2016
Review from a similar Blue Ox SwayPro in Weight Distribution
Don't know about blue ox yet. Don't really see how this mechanism can provide any more sway control than any other weight distribution hitch. But I do know about e-trailer. They are the most helpful people on the planet. When the local camping world couldn't supply a hitch at the last minute, I called e-trailer. They had the blue ox in Boise in 36 hours from my call and no shippong. Over the years e-trailer has never failed to exceed expectation. 280395
- BXW1000
by: Carl W.09/18/2015
Review from a similar Blue Ox SwayPro in Weight Distribution
Ordered the Blue Ox BXW1000. The ordering process was easy and the item shipped right away. I received it very quickly and shipping was FREE! A good thing when your order weighs almost 100 pounds. Installation was straight forward. I have not had a chance to tow with the new hitch, but I am looking forward to not hearing all the pops and snaps I heard with the old Husky. I also am looking forward to better sway control. Thanks etrailer! 226321
- BXW0750
by: Robert J06/25/2016
Review from a similar Blue Ox SwayPro in Weight Distribution
The Blue Ox weight distribution and sway control...truly a solid addition to my towing needs. It is very well made, finished well and works exactly as it is supposed to. The price cannot, that I could find, be beat. Throw in the fact that Etrailer has very good videos to explain installation and operation of most of their products, then you have a winning combination. I am very happy with the product and price. 265026
- BXW1500
by: Jason03/24/2017
Review from a similar Blue Ox SwayPro in Weight Distribution
I ordered the Blue OX BXW1500. Installation was easy, I will be testing it next week for the first time. etrailer's customer service was wonderful. I worked with Sarah, she was a wonderful help. After ordering the hitch, I found it for a lower price. etrailer refunded the difference plus another 10% of the difference with no questions asked. I highly recommend etrailer for all your camping needs. Thanks Jason 360591
- BXW1500
by: billgill08/12/2016
Review from a similar Blue Ox SwayPro in Weight Distribution
Great product and I really like: - the powder coating - containment of grease in the joints - no adjustable hitch ball head needed as you change load factors in your trailer. As usual the guys at etrailer went above and beyond as I had a deadline need and they got it to me two days before that without unnecessary upcharges. Great personal service makes them more than your usual internet company. 283235
- BXW2001
by: Tim S06/04/2015
Review from a similar Blue Ox SwayPro in Weight Distribution
Everything I ordered worked perfect the Primus IQ proportional braking system went in my truck in five minutes. This was possible because of ordering the wiring harness for my vehicle. Worth every dime. The blue ox distribution hitch and sway bar works perfectly and very easy to install. I am a real person and would recommend etrailer for all your needs delivery was quick and free shipping a real plus. 200607
- BXW1000
by: Ronald Cottick03/01/2015
Review from a similar Blue Ox SwayPro in Weight Distribution
This product does what it says it will do. My trailer was rock solid on the highway with heavy semi traffic all around me. The engaging of the trunnion bars is easy to adjust and engage. Even the installer said when I picked my trailer that installation and set up was much easier than others that he had dealt with. Pricier than most but for the performance and safety factor, well worth the investment. 176524
- BXW1000
by: Dan W07/17/2015
Review from a similar Blue Ox SwayPro in Weight Distribution
Purchased hitch from Etrailer but accidently purchased the wrong size to my dismay there is no order cancel option anywhere on the website so I emailed the customer service 15 mins after purchase then I called in the morning to my dismay they had already shipped it since the shipping department arrives at 5am and they do not get in till 7 am so now I'm stuck paying $80 for the return shipment. 212610
- BXW1500
by: Glen05/16/2015
Review from a similar Blue Ox SwayPro in Weight Distribution
Blue Ox hitch was relatively easy to install and set up. Haven't had a chance to get on the road with it but from another I know it should do just fine. Customer Service was great. They got me all the things I wanted but didn't find on the website. Hitch arrived in less than a week. Jena checked with me a couple of times to make sure I was satisfied and ask if I had any questions. 193595
- BXW1506
by: Steve S03/10/2017
Review from a similar Blue Ox SwayPro in Weight Distribution
Easy to install. I was very curious as to how this would work as both a weight distributing hitch and sway control all in one. I was very surprised. I have used it on 3 trips on a 4 lane highway at highway speeds and with being passed and passing tractor trailers, it performed extremely well. I would recommend to anyone wanting a weight distributing hitch and sway control in one unit. 350658
- BXW1000
by: JOHN11/04/2014
Review from a similar Blue Ox SwayPro in Weight Distribution
FAST SHIPPING. Heavier than I thought. Well built. Does just what it said it would do. My 20ft' trailer with Tractor / front end loader / & bush hog ( about 8500lbs total weight) pulls better now. Trailer not bucking anymore going down the road and seems to handle better going around curves. Easy to install and setup. No problems here. Would buy from them again. 159252
- BXW1500
by: Scott K.07/20/2016
Review from a similar Blue Ox SwayPro in Weight Distribution
HIGHLY RECOMMEND THE BLUE OX SWAY PRO!!!!! SUPER FAST EASY INSTALLATION & SET-UP. HOOK-UP & DISCONNECT TO TRAILER ARE A BREEZE. RELIEVE TENSION ON TORSION BARS A MUST WHEN CONNECTING & DISCONNECTING. TOP QUALITY CONSTRUCTION, MADE IN THE USA!!!! NEVER TOWED BETTER THAN WITH THE BLUE OX. THANKS E-TRAILER FOR SELLING SUCH GREAT PRODUCTS AT SUCH GREAT PRICES. 274268
- BXW1501
by: Gary C03/21/2016
Review from a similar Blue Ox SwayPro in Weight Distribution
Product works very well distributing weight and containing sway. Built very heavy duty. Powder coating chips off easily. Especially on edges of brackets. No instructions in box. I downloaded from manufacturers web site. Box that it was shipped in not strong enough for this much weight. Broke open in several spots. Thankfully nothing missing. 241150
- BXW1500
by: Steve H05/30/2015
Review from a similar Blue Ox SwayPro in Weight Distribution
Very good quality, have not used it yet as trailer it is for is still being built. Looking forward to connecting all and testing it out. Customer service was great. The add showed a 2 inch receiver when in fact it required a 2 1/2 inch. Was caught before shipping and the correct one was shipped. Good service,had it in 4 days Steve 198877
- BXW1000
by: Stephen03/22/2015
Review from a similar Blue Ox SwayPro in Weight Distribution
I got this hitch to tow my 27FB Airstream. It was easy to install and the ride quality is great. I would recommend this setup for anyone towing a trailer with a heavier tongue weight looking for sway prevention. Debora at eTrailer was great to work with and let me know what was in stock and and when I should get my hitch. Thank you. 180126
- BXW1003
by: Randi04/11/2017
Review from a similar Blue Ox SwayPro in Weight Distribution
Way too heavy for me to install. My son installed it. Once he figured out how to avoid being hurt when releasing chain, he was much happier with it. Drove all day in high winds and trailer swayed a little but it would have been MUCH worse without this WDH! I would not have driven that day without this product. 365698
- BXW1000
by: Mike R.06/27/2015
Review from a similar Blue Ox SwayPro in Weight Distribution
This trailer hitch and anti away system is top notch. I have owned multiple hitches for trailers over the years, but the Blue Ox is the winner. Thanks for a great product! 207714
Comments
I had no idea what I needs and was sold this. Then seeing what others have. Yes. Definitely a nice setup
comment by: Matt n - 09/20/2015
15112
- BXW1000
by: Old Scout04/13/2017
Review from a similar Blue Ox SwayPro in Weight Distribution
I just received my sway pro today and put it together and got it installed on my Airstream. Looks good and well made. Will hit the road next week and will log about 2000 miles over 2 weeks. Have high hopes for the hitch and hope it performs as advertised. I am sure it will. 368902
- BXW1506
by: Vern L10/26/2016
Review from a similar Blue Ox SwayPro in Weight Distribution
I just received this yesterday, and will be using it this weekend to tow a 34 1/2' Toy Hauler home from Virginia. It is extremely heavy/well made and the powder coating looks like it was applied very well. Should be a great W.D. hitch system that will last for many years 310976
- BXW2000
by: Mel Welton04/20/2017
Review from a similar Blue Ox SwayPro in Weight Distribution
Katie was so nice you could not ask for a better sale person then her. She got me the right trailer hitch for my 2017 GMC 2500 HD pickup. Telling me about how to get weight the tongue weight on my hitch of my pickup. Katie D. sent me the paper works to do all of that. 370224
- BXW1000
by: Ronald02/25/2013
Review from a similar Blue Ox SwayPro in Weight Distribution
Well built product-solid product! My friend highly recommended this Blue Ox Sway Bar. I seen it on his truck when he came to our camp. I didn't have one. I'll be using this sway bar real soon. USA made...I hope? No Blue Ox Bull - from China. Keep on working hard, Ron 67772
- BXW1000
by: CharlieG10/12/2016
Review from a similar Blue Ox SwayPro in Weight Distribution
Great product! Arrived just as promised. Took special tools to install and get the correct torque on the bolts. Eliminates metal on metal friction and all the noise associated with lower quality brands. Greatly reduces trailer sway. Easy to hook up to travel trailer. 306146
- BXW0750
by: Chad L08/09/2016
Review from a similar Blue Ox SwayPro in Weight Distribution
This is my second Sway Pro on another trailer. I love that it's not a greasy mess (the bars stay clean and so easy to store) and the setup is straightforward. I've towed ~15k miles with this system and felt great confidence the entire time. 281774
- BXW1500
by: Jim w08/25/2016
Review from a similar Blue Ox SwayPro in Weight Distribution
Easy to setup and adjust mounting brackets. Distributed weight well. I have noticed a little sway on our 38 ft trailer but nothing of concern yet. I like this system over the old sway bar system. I would recommend this product. 287729
- BXW1000
by: steve L.05/02/2015
Review from a similar Blue Ox SwayPro in Weight Distribution
product was easy to install, and came as described, its my first purchase of any weight distribution system so I really have nothing to compare it to, I chose this one based on other customer reviews and ease of install 189402
- BXW2000
by: Joe G.12/12/2014
Review from a similar Blue Ox SwayPro in Weight Distribution
The load leveler I purchased was shipped in a most timely manner, arrived quickly, and the order was complete. I am very impressed with both the Blue Ox load leveler and in the service provided by etrailer.com. 165383
52
86
Show More Reviews