Roadmaster Tow Bars - RM-501
Tow bar with 2" ball coupler has stainless steel, telescoping arms that automatically lock into place. Large hookup radius allows you to connect without perfectly lining up your vehicle. Quick-disconnects make it easy to attach to base plates.
Features:
Tow bar lets you tow your vehicle safely and securely behind your motor home
Large hookup radius makes connecting a breeze at any angle, even if your vehicle isn't perfectly lined up with your RV
Quick-disconnect system lets you quickly and easily mount the tow bar on your towed car

Quick-disconnect brackets on tow bar match up with brackets on base plates and are held in place with sturdy pins

Self-aligning design - just hook up and drive RV forward

Arms extend into rigid, tow-ready position and automatically lock in place

Extra-long telescoping arms allow for better maneuverability and easier towing

Stainless steel construction of inner arms allows for smooth operation
Safety straps inside each arm provide extra security in case the latches malfunction

Full-length crossbar with angle iron brace provides maximum strength and support
Strong, corrosion-resistant tow bar is built to last

FEA testing guarantees a strong finished product
Self-lubricated nylon bushings eliminate friction between the inner and outer arms for a longer-lasting, better-functioning system
Welded steel plugs seal the ends of the tow bar to guard internal components
High-tech powder coat finish provides additional durability

Simple, secure storage alongside vehicle

Just fold up the tow bar and secure it using the collar under the coupler

Made in the USA
Specs:
Compatibility: works with most Roadmaster EZ, EZ2, EZ4, XL, and Classic vehicle-specific base plates

Will not work with MX, MS, or EZ5 base plates
Can be adapted for use with Blue Ox base plates with the Roadmaster Tow Bar to Blue Ox Brackets Adapter (RM-031 - sold separately)

Ball diameter: 2"
Arm length (from centerline of quick-disconnects to center of hitch ball):

Extended: 44-1/2"
Retracted: 36"

Weight capacity: 6,000 lbs
1-Year limited warranty
Necessities for Flat Towing
| For the RV | For the Towed Car | To Link the Towed Car and RV |
| --- | --- | --- |
| Hitch | Base plates | Tow bar |
| Wiring plug | Braking system | Safety cables |
| | Wiring kit/diodes | Wiring adapter cord |
Quick, Easy Hookup and Disconnect
This Roadmaster tow bar has a large hookup radius to ensure simple, secure hookup. What this means is that, even if your towed car is not perfectly aligned with your RV, you will still be able to make the necessary connections. To achieve this, the StowMaster has stainless steel, telescopic inner arms that adjust independently. In addition, 1 of these arms is able to pivot in and out, changing the spread. So, if your car is angled a bit behind your RV, you'll still be able to hook up by bringing the arms closer together and staggering the length so that 1 arm is longer than the other, allowing it to reach the more distant base plate.
The fact that the arms are extra-long also allows for a better turning radius. By putting more distance between your motor home and your towed car, your entire setup will become easier to maneuver so that your towed car will track behind your motor home without running the risk of hitting your RV during turns.
The Autowlok mechanism features a spring-loaded pin that locks the telescoping arms into place for towing. Once the tow bar is connected to both your RV and to the base plates on your towed vehicle, simply drive the RV forward until the tow bar arms fully extend, at which point they will automatically lock into place. Once you've reached your destination and you're ready to unhook your car, press the release button to disengage the spring-loaded pin. The arms will be able to telescope again, making it easier to disconnect.
The internal self-lubricating nylon bushings help to absorb road shock and reduce wear and tear on the tow bar by eliminating friction between the inner and outer arms as they telescope in and out. Inside each arm, a built-in safety strap provides extra peace of mind by ensuring that the inner and outer arms won't separate in the event of a latch failure.
Quick-Disconnects
Standard on most Roadmaster tow bars, quick-disconnects make it a snap to attach the tow bar to your vehicle. Other methods require you to maneuver each tow bar arm individually and perfectly line up tabs on the arms with tabs on your base plates. Roadmaster's unique design lets you connect and disconnect the tow bar quickly and easily, all by yourself.
The quick-disconnect brackets come in separate pieces. The pieces that are positioned on the ends of each tow bar arm interlock with matching brackets that attach to your Roadmaster base plates. Sandwiched between the tow bar arms is a sturdy crossbar that essentially turns the arms into a single structure. This crossbar allows you to lower the tow bar as a single piece onto the quick-disconnect brackets on your towed car so that you don't have to connect each arm separately. When lowering the tow bar onto the brackets, make sure that the tab on each bracket lines up with the hole in the matching bracket. Then just insert the linch pins through the holes in the tabs on top to secure the brackets together. To remove the tow bar, simply remove the pins and lift the tow bar off of the brackets. These convenient brackets also make it simple to mount any number of Roadmaster accessories, from basic safety cables to the Guardian rock shield.
Superior Testing Ensures Excellent Quality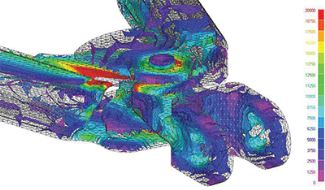 This StowMaster tow bar has been subjected to rigorous physical and computerized testing to ensure that it meets Roadmaster's exceptionally high standards. Throughout the design process, Finite Elemental Analysis (FEA) is done. Each of these tests display a 3-dimensional image of the tow bar while it is put under thousands of pounds of pressure. Areas of stress in the tow bar can then be located and studied so that those areas can be strengthened. This process is repeated until any weak spots, particularly those found in load-bearing components, are completely removed. The result is a durable, strong, and safe product.
Simple Storage
The StowMaster can easily be folded up and stored on the front of your towed vehicle when not in use. After disconnecting the tow bar from your RV, push the arms of the tow bar together so that they are side by side and fold them up towards the vehicle. There is a collar under the coupler that fits over a vertical post on the crossbar. This secures the tow bar in the stored position on the front of your car.
Guide to Flat Towing
Flat towing your vehicle is much more convenient than using a trailer or a tow dolly. These other options take up much more storage space, leaving you less room both at home and at the campsite. In addition, securing your vehicle to a trailer or tow dolly can be a hassle and more time consuming than hooking up with a tow bar.
There are 5 basic components needed when flat towing a vehicle: a tow bar, a base plate kit, a safety cable set, tow bar wiring, and a supplemental braking system.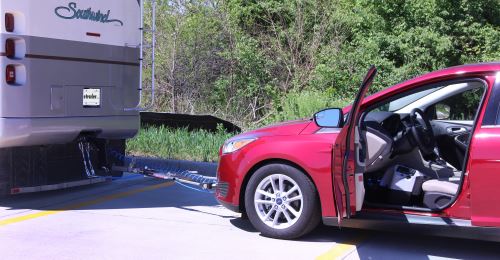 The tow bar links your towed car to your motor home. It attaches to the custom-fit base plates that install on the frame of your towed car. Safety cables ensure that your towed car does not separate from your motor home in the event that your tow bar becomes detached. Tow bar wiring allows your towed vehicle's signal lights to sync up with your motor home's tail lights, which is required by law in most states. Finally, the supplemental braking system - also required in most states - brakes your towed car when the brakes in your motor home are activated, preventing wear on the motor home and decreasing braking distance for your entire setup.
501 Road Master Stow Master Coupler-Style Tow Bar for 2" Hitch Ball
Installation Details

Why etrailer.com?
At etrailer.com we guarantee:
Highest quality tow bars for the best price.
Real product know-how.
We make sure that the products we sell are what we say they are, and that they work the way they are supposed to work. This helps you get the right product the first time.
Every day our teams test, review, assemble and install our products. Our modern installation facilities allow our expert installers and customer service representatives to actually install and use the items we sell, so you can get real advice, from a real person who has the knowledge and expertise needed to solve your problem.
Most detailed, accurate tow bar information available.
Because we take providing accurate product information seriously, we take our own detailed product photos, demo videos and installation videos, as well as verify measurements, instructions, and vehicle fit information.
Information for this part was:
Installations, made easy.
We love helping people.
We have the most highly trained customer service, hands-on experience, step by step videos and installation instructions. We are prepared to answer any question, give advice, or troubleshoot any problem you come across.
Fast shipping.
Personalized service for life.
We provide one-on-one, personalized service from the ordering process through the life of your product.
Trusted since 1946.
We've been serving customers since our parts store first opened in 1946 and continue to be recognized by our customers, our vendors and third parties for exceptional service.