Double-Eye Trailer Suspension System Review
Trailer suspension is composed of several components that work together to give your trailer a smooth ride. Suspension systems absorb shock from the road and reduce wear and tear on your trailer. They also help to keep your trailer level when you encounter bumpy roads and uneven surfaces.
Differences Between Double Eye Spring Systems and Slipper Spring Systems
Shape of spring
Weight capacity of double-eye springs is generally lower than slipper springs
More moving parts, more parts to maintain on a double-eye suspension
Generally rides more smoothly than slipper springs
Hangers are the system's point of attachment to the trailer.
Hangers are welded to the frame
Hangers are used to suspend:
Note: There are always 2 more hangers than springs in a suspension system. For example, if there are 4 springs in a kit, you will have 6 hangers.
Types of Hangers
Front - always suspends front of leaf spring (closest to tow vehicle)
Center - suspends equalizers
Rear - suspends leaf springs directly or via shackle straps
Hanger Dimensions
Width:
Height

Distance from the center of the bolt hole to the top of the hanger
Different heights provide varying levels of clearance for the trailer
Hangers for a single system do not have to be of equal height

Bolt hole diameter

Most hangers for double-eye springs require 9/16" diameter x 3" long bolts
Leaf springs act as the shock absorbers of the suspension system. Their flexing action when you go over bumps and rough road smooths the trailer ride.
Features
Double-eye springs have an "eye," or bolt hole, at each end of the spring, created by rolling the steel of the spring to make a circle
Each spring is 1-3/4" wide; length varies
Springs can carry between 1,000 and 3,300 lbs per spring (2,000-lb to 6,600-lb axles)
Single-axle attachments

Bolts suspend double-eye spring from front hanger
Spring bolts to shackles at the rear, allowing for movement

Multi-axle attachments

Attach to hanger at front and rear
Middle points attach to equalizer via shackle straps

Note: There are always 2 springs per axle in a suspension system
Weight Capacities
Each spring carries 50 percent of the axle's weight rating

For example, if the axle rating is 3,500 lbs, each spring should be rated for 1,750 lbs

Number of leaves varies with the weight rating of the spring

Typically, the more leaves there are, the more weight the spring can support
Different springs can have identical dimensions with varying quantities of leaves - the only difference will be the weight capacity
Replacing Springs
Springs should be replaced if:

Cracked
Broken
Extremely rusty
Overly worn and sagging
You are upgrading the axle to a greater weight capacity

Replacing springs protects the trailer and its contents from:

Extra wear and tear
Poor trailer handling
Limited ground clearance

To replace springs you need to know the following information:

Number of leaves
Weight rating of axle (to determine weight load for each spring)
Length of spring
Useful dimensions to have when replacing double-eye springs

A = Length from center of one eye to the center of the other eye

This is the most important measurement
Allow for slight variations in this measurement because the springs can sag and elongate as a result of wear

B = Height from top-center of spring to center of eye
C = Length from center of eye to center of the spring
All springs should be replaced at the same time

Ideal for maintaining even support for the trailer

Overall spring weight rating should not be greater than the trailer's weight capacity. If it is:

Can result in a stiffer ride for the trailer, especially when unloaded
You cannot use full capacity of the springs because you can haul only as much as the trailer is rated for

New or replacement double-eye springs come with bushings (except for part #TE30, for mobile home suspension)
Equalizers are used on multi-axle trailers to transfer additional weight caused by driving over a bump from one axle to the other. This transfer of weight equalizes the weight being carried by all axles at the time of impact. Without an equalizer, going over a bump would cause one axle to carry a disproportionate amount of weight. Additionally, the equalizer allows for a smooth transfer of the impact through the suspension system under the trailer.
Features
Suspended from a middle hanger and serve as a link between the leaf springs

Shackle straps are used to connect the springs to the equalizer

Swing front to back, allowing the axles to adjust to bumps
Note: There is always 1 equalizer between 2 connecting springs in a system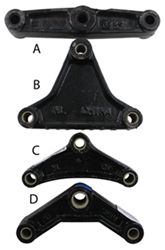 Types

(A) Flat - generally used for horse trailers
(B) Tall - designed to allow a trailer to ride low in RV applications
(C) Curved - most popular; often found on utility trailers and car haulers
(D) Short curved - commonly used with short springs on which front and rear hangers are close together
Replacing Equalizers
Typically, equalizers do not need to be replaced because they do not support the bulk of the weight

Equalizer bushings are subject to wear, resulting from a lot of movement, and are likely to need replacing
If bushings are worn, it can be both cost and time effective to simply replace the equalizer

Measurements required to determine which replacement equalizer is needed vary by equalizer type
Examples of typical measurements needed

A = Length from center of left-most eye to center of right-most eye
B = Length from center of left eye to center of middle eye
C = Diameter of center eye hole
D = Diameter of left and right eye holes (always 9/16")
E = Height from center of bottom hole to center of top hole
Shackle straps are used to link components of a suspension system and to allow small movement in the suspension system.
Link between springs and hangers (single-axle system) and springs and equalizers (multi-axle system)
All shackles in a system should be of equal length
All shackles have 9/16" diameter bolt holes
3 Sizes (length is from center of one bolt hole to center of other bolt hole)

3-1/8" Long shackle straps - typically used on single-axle systems
2-5/8" Long shackle straps - typically used on dual-axle systems and all triple-axle systems; most popular
2-1/4" Long shackle straps - typically used in 1 dual-axle kit

Note: There are usually 2 shackle straps per spring in single-axle systems and 4 per equalizer in multi-axle systems
Replacing Shackle Straps
Shackles should be checked frequently because they are the part most likely to wear as a result of handling the most movement and weight
Signs of wear

Bolt hole openings become elongated or oval shaped
Bolt and nut appear to be moving closer to the edge of the shackle
Severely rusted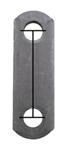 Measurements for replacement

Measure current shackle from center of one eye to center of the other eye
You can also often determine the shackle length from the type of suspension system you have
Features
Suspension bolts hold together the various moving components of a trailer suspension system, serving as the pivot points in the system.
Bolt together:

Springs and hangers
Springs and equalizers via shackle straps
Equalizers and hangers
Types
Suspension bolts

(A) Regular shackle bolts - for use between springs and hangers and between slippers and hangers
(B) Wet shackle bolts - have zerk fittings that allow grease to be injected, which assists movement and halts corrosion

Can be used anywhere in the suspension system as long as the bolt is of appropriate size; eyes with bushing often do not need wet bolts

(C) Equalizer bolts - designed to suspend equalizers

Nuts

(D) Regular nut - normal nut; reusable
(E) Lock nut - has mismatched threads to ensure that the nut cannot twist off the bolt; one-time use
(F) Castle nut - looks like a castle wall; includes a cotter pin, which threads through the small hole at the threaded end of the bolt to ensure that the nut cannot come off the bolt

Most often used on the equalizer of systems with high weight capacities
Dimensions
Diameter should match the bushing or the bolt hole inner diameter

Equalizers can have bolt holes of varying diameters, so be sure that you have properly sized bolts for each hole

Length is 3" (all double-eye leaf springs are the same width)

Length measurement provided is the usable length from the bottom of the head to the end of the bolt
Replacing Shackle Bolts
Replace when:
Useful information to have when replacing bolts

Bolt diameter
Bolt length
Bolt's placement in the suspension system (For example, is it an equalizer bolt?)
Bolt and nut type
U-bolts are designed to secure the leaf springs to the axle of the trailer.
The U or square part of the bolt attaches directly to the axle, and the ends will extend over the spring seats and springs
U-bolt ends go through U-bolt plate and nuts to secure springs to axle

2 U-bolts per spring - 1 for each side of the spring
4 U-bolts per axle
Types of U-bolts

Round U-bolts for round axles
Square U-bolts for square axles

Bolt dimensions (depend on axle type and capacity)

(A) Width - matches axle diameter
(L) Length - varies depending on axle diameter and the number of leaves on the springs

Needs to clear axle, spring seat and spring so that U-bolt plate can be attached

(D) Diameter - the larger the diameter, the greater the U-bolt weight rating
Torque ratings

1/2" bolts: 45 ft/lbs - 70 ft/lbs
9/16" bolts: 65 ft/lbs - 95 ft/lbs
5/8" bolts: 100 ft/lbs - 120 ft/lbs
Replacing U-Bolts
Information needed to choose new or replacement U-bolts

Axle capacity
A = Width between each bolt arm
D = Diameter of bolt
L = Length from lowest point in arch to the end of the bolt arms
U-Bolt Plates
Used to attach leaf spring to axle
Dimensions vary depending on:

U-bolt width and diameters
Must match up so that bolts fit securely

Should be replaced if:

Rusted
Stretched
Bent
Show any other significant signs of wear

Look for stress cracks and worn spots when performing routine checks on your suspension system
Typical Axle Diameters Based on Axle Capacity
1,000-lb - 2,000-lb Axles: 1-1/2" - 1-3/4" diameter
3,500-lb Axles: 2-3/8" diameter

Can have a 3-1/2" diameter, but rarely

6,000-lb - 7,200-lb Axles: 3" diameter
8,000-lb Axles: 3-1/2" diameter
9,000-lb Axles: 4" diameter
10,000-lb Or more axles: 5" diameter
Welded to the axle
Sit between axle and springs
Provide a flat surface on which the springs rest
A nub on the spring sits in the hole in the spring seat, lining up the springs to the spring seat and preventing rotation of the U-bolt assembly

Helps to keep the spring from shifting
The U-bolts and plates hold together everything in the system

Dimensions

Arch width - designed to fit around axle diameter

This is the only relevent dimension

You also need to know whether the spring seat is made for a round or square axle
Parts Needed to Complete a Trailer Suspension System
Single-Axle Suspension
| Quantity | Part |
| --- | --- |
| 2 | Double-eye springs |
| 2 | Front hangers |
| 2 | Rear hangers |
| 4 | Shackle straps |
| 6 | Shackle bolts |
| 2 | Spring seats (if needed) |
| 2 | U-bolt sets (4 U-bolts) |
| 2 | U-bolt plates |
Dual-Axle Suspension
| Quantity | Part |
| --- | --- |
| 4 | Double-eye springs |
| 2 | Front hangers |
| 2 | Center hangers |
| 2 | Rear hangers |
| 2 | Equalizers |
| 8 | Shackle straps |
| 14 | Shackle bolts |
| 4 | Spring seats (if needed) |
| 4 | U-bolt sets (8 U-bolts) |
| 4 | U-bolt plates |
Triple-Axle Suspension
| Quantity | Part |
| --- | --- |
| 6 | Double-eye springs |
| 2 | Front hangers |
| 4 | Center hangers |
| 2 | Rear hangers |
| 4 | Equalizers |
| 16 | Shackle straps |
| 24 | Shackle bolts |
| 6 | Spring seats (if needed) |
| 6 | U-bolt sets (12 U-bolts) |
| 6 | U-bolt plates |