7-Way RV Trailer Connector Wiring Diagram
Question:
trailer connector wireing diagram. need to know which color wire go to which post.
asked by: Joann
Expert Reply:
When wiring a trailer connector, it is best to wire by function, as wire colors can vary. We have an excellent wiring diagram on our website, I will provide you a link so you can look at it.

If you are looking at the inside of the trailer connector where the wires mount to the terminals starting at the notch at the top and working clockwise:

1:00 is Black and 12 volt power
3:00 is Green and Right Turn and Brake
5:00 is Blue and Brake Controller
7:00 is White and Ground
9:00 is Yellow and Left Turn and Brake
11:00 is Brown and Tail and Running Lights
Center is Purple and is Optional Reverse

I recommend using a circuit tester like part # 40376 to verify your connections.

I attached a picture to that shows how the connector should be wired.
Click to Enlarge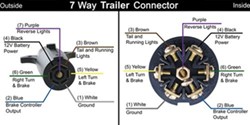 Click to Enlarge
Ask The Experts a Question >>