Trailer Hitch Balls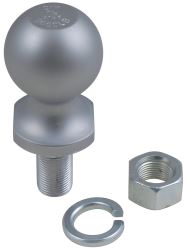 A trailer hitch ball is bolted to your hitch's ball mount and provides the attachment point for your trailer's coupler. The ball allows the trailer to pivot to provide smooth turning while towing. Trailer hitch balls are sold in various shank lengths and diameters, ball diameters and weight capacities to meet your towing needs.
Learn more about the following hitch ball topics:
Shop for a hitch ball
Choose a Hitch Ball to Fit Your Trailer and Ball Mount
To choose the right hitch ball for your application, you need to know a few things about the trailer that you tow and your ball mount.
Ball Diameter and Capacity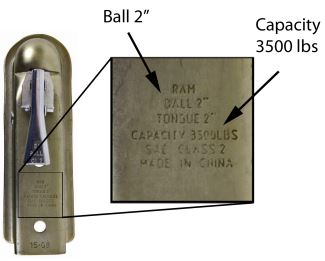 Most trailers list hitch ball size (diameter) and maximum towing capacity on the tongue, coupler, or frame. Any hitch ball used to tow the trailer should have the same diameter and a maximum capacity the same or greater than that listed. Common hitch ball diameters are: 1-7/8", 2", and 2-5/16".
Shop for hitch balls by diameter, below
Hitch-Ball Shank Dimensions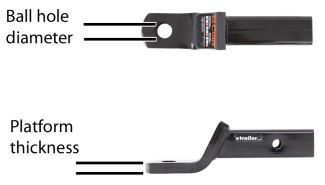 Not only must the hitch ball fit your trailer, it also must fit your ball mount. Ball mounts have a platform that has a hole in it to receive the ball. The ball has a threaded shank that allows you to bolt the ball to the ball mount. (Most balls come with a lock washer and bolt for attaching the ball.)
Ball mounts vary in the thickness of the platform and the diameter of the hole. To fit different ball mounts, balls are available in a variety of shank lengths and diameters. Ball mounts do not usually list these 2 values, so you will have to measure. Common diameters are 3/4", 1", and 1-1/4", but there are a few balls available in several less common sizes. Once you know the diameter of the mounting hole in the ball mount, choose a ball shank diameter of the same size.
Hint: When choosing shank length, consider that the shank must not only pass through the ball mount, but it will have a lock washer and nut on the end. To ensure safety, the shank should extend past the nut by at least 1 thread.
Shop for hitch balls by most common shank diameters, below
Ball Diameter Specifics
Hitch Ball Diameter
Specifications

Capacity: up to 2,000 lbs
Shank diameter: 3/4" and 1"

1-7/8"

Capacity: 3,500 lbs to 8,000 lbs
Shank diameter: 3/4", 1" and 1-1/4"
Most common ball size

2"

Capacity: 6,000 lbs to 40,000 lbs
Shank diameter: 1" and 1-1/4"

2-5/16"
Recommended Torque Values for Attaching a Hitch Ball
3/4" Diameter: 150 ft-lb
1" Diameter: 250 ft-lb
1-1/4" Diameter: 450 ft-lb
Hitch Ball Construction
Hitch balls are made of several different materials and finishes, each with its own advantages and disadvantages.
Material and Finish
Characteristics

Chrome

Steel ball with chrome coating
Popular
Economical
Chrome can wear off and allow rust to form


Stainless steel

Rustproof material stands up well to water and salt exposure
More expensive than most other kinds of hitch balls


Zinc

Steel ball with zinc coating
Corrosion-resistant finish stands up well to water and salt exposure
Cost less than stainless steel hitch balls


Raw

Heat treated or forged steel for superior strength
Heavy duty use
May be machined


Nickel

Steel ball with nickel coating
Corrosion resistant finish
Non-magnetic
Plating method is less harmful to the environment than chrome electroplating
Built-in Rise
Some balls are made with a built-in rise that positions the ball slightly above the ball mount when the ball is installed. This rise can provide a way for you to gain height to tow a trailer that has a higher coupler. High rise balls typically add 1" or 2" of extra height.

Shop for a high rise hitch ball
Specialty Hitch Balls
Interchangeable Ball Systems
Set includes one shank and two or three balls with different diameters
Kits available with either a 3/4" or 1" shank diameter

Paired with a combo of 1-7/8", 2" and 2-5/16" balls

Perfect solution for individuals who tow multiple trailers that require different ball sizes
Offered in nickel plated and stainless steel finish
Gooseneck Balls
Designed specifically for each gooseneck system; be sure to select a replacement ball that is compatible with your system
Available in 2-5/16" or 3" ball diameter
Available with an offset - creates more room between the cab of the truck and trailer
Pintle Balls
Some pintle hooks are sold with a ball; can be conveniently used for standard and heavy duty towing applications
Replacement balls are available; be sure to select a ball that is compatible with your pintle hook
Recommended Items
Hitch Ball Grease
Keeps ball looking and performing like new
Allows coupler to rotate more freely
Reduces scratching on ball surface
Ball Cover
Protects ball from elements and rust when not in use
Keeps grease from spreading when no trailer is hooked up:

Saves vehicle interior if ball is taken off

Saves you from grease stains if ball is left on
Hitch Ball Wrench
Tightens hitch ball on ball mount
Works with most 3/4" and 1" shank balls