Rust Prevention
Select your vehicle to confirm the Trailer Hitch fit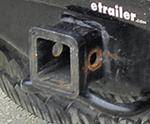 Rust is formed by the reaction of iron and oxygen in the presence of water or air moisture. Left unprotected, your hitch, ball mount, hitch ball or accessory will pit and corrode over time, which can make towing a trailer a safety concern. When these products are used around water, they are at increased risk for rust and corrosion. You can extend the life of your towing products and keep rust and corrosion from beginning with these tips.
Start With Rust-Resistant Products
Stainless Steel
Stainless steel is a material that is very strong and very resistant to rust, corrosion and staining. Stainless steel towing products are perfect for applications in high humidity or with watercraft trailers. Many of our tow bars, exhaust systems, hitch receiver locks, coupler locks and tube steps are made of stainless steel.
Aluminum
Aluminum is a lightweight metal that naturally stays free of rust. An aluminum ball mount slides into the hitch receiver and provides a rust-resistant platform for the hitch ball.
Zinc-Plated or Galvanized Steel
Zinc plating or galvanizing is a process that makes a product resistant to the elements. Steel or iron is dipped in zinc, which then forms a physical barrier against corrosion. Zinc-plated hitch balls are available. And many of the following towing products are made with corrosion-resistant materials: hand winches, jacks, and couplers.
Powder Coated Steel
Most trailer hitches are black powder coated steel. The powder coating offers some resistance, but does break down over time. The best way to inhibit rust formation is to touch up scratches with a good rust-inhibiting spray paint.
Routine Maintenance
Look for Scratches and Pitting - Hitches are pieces of steel bolted to the bottom of the vehicle. Dents and dings will break through the powder coating and leave the bare metal open to the elements. Routinely check hitch for scratches or missing paint. When bare metal is showing, it is essential to touch up the hitch to prevent rust from forming. If you notice rust, you can lightly sand the hitch and touch it up with paint to stop the rust from growing.
Keeps moisture and road debris out of the receiver opening
Inhibits rust from beginning inside hitch
The ball mount slides into the hitch receiver and provides a platform for the hitch ball to sit on. In some extreme cases, if it is left inside the hitch, the ball mount can rust or weld inside the receiver tube and may take extra effort to remove. You can prevent this by removing the ball mount when it is not in use. If you store the ball mount in your vehicle, a ball mount bag will protect the inside of the vehicle and keep all equipment together. You will also want to routinely touch up scratches on the ball mount.
A hitch ball sits atop the ball mount platform and within the coupler during towing. The hitch ball is subjected to road debris, road salt and harsh weather even when you are not towing a trailer. Liberally apply ball grease to ensure a smooth pivot with the coupler. This will also protect the hitch ball when it is not in use. If your hitch ball is rusty, you can use WD-40 to loosen the rust and then you will need to scrub the hitch ball with a wire brush. You can keep rust from reoccurring by lubricating and protecting the ball with ball grease and covering it with a hitch ball cover. We recommend removing the ball mount from the hitch receiver and storing it until ready to use it.
Prevents rust and oxidation, reduces friction and repels moisture
Apply liberally every time you tow
Protects your hitch ball from the elements
Keeps ball grease from rubbing off when hitch ball is not towing or while it is in storage