Gooseneck Trailer Hitch Information and Review
Select your vehicle to confirm the Gooseneck fit
Like a fifth wheel hitch, a gooseneck hitch is mounted in the bed of the truck, but while a fifth wheel hitch sits above the bed, a gooseneck hitch uses a ball mounted level with the bed. Also, fifth wheel trailers are typically used for recreational applications (such as camping), while gooseneck trailers are primarily for agricultural or industrial use.
Weight Ratings
Gooseneck hitches are rated for 25,000 to 30,000 lbs
Rail kits offered are rated for a lower capacity to meet non-commercial towing standards
When used with the proper rail kit, the Gooseneck System is designed to match the towing capacity of your vehicle

NOTE: Remember that any towing system is only as strong as its weakest link. You will be limited by the tow rating of your vehicle.
Available Mounting Configurations
The only visible portions of the hitch are the safety chain loops and the 2-5/16 inch ball which extends through a 3-1/2 or 4 inch hole in the bed

Vehicle specific rail kits are mounted underneath the bed; most kits do not require drilling for installation

This system allows you to retain maximum usage of your truck bed

Ball can be flipped and stored under the bed surface
Safety chain loops are spring loaded to stay tight against the bed surface when not being used
B&W Turnoverball Gooseneck System:
Only the safety chain loops and the ball extend above the bed

Includes underbed installation rails

Hitch lets you use all of your truck bed when you aren't towing

Ball stores upside down - out of the way but close at hand
Square ball base prevents ball from turning when you hook up

Keeps ball hole lined up to easily connect to hitch handle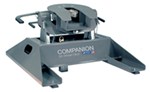 Custom accessories mount into gooseneck ball hole

B&W Companion hitch lets you tow a 5th-wheel trailer
Plate Style Systems:
Sits slightly above the truck bed, but allows full truck bed use when not towing

Depending on style, ball is removable or will fold down below bed surface

Units are less expensive, but the installation can be more involved

Requires cutting a larger hole in the truck bed

These hitches have the advantage of simple reliable operation, and the mounting rail kits use existing holes in the vehicle frame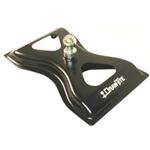 Perfect for hauling the fifth wheel camper on the weekend and the bobcat during the week
Units mount to your existing fifth wheel rails, providing maximum flexibility by allowing the user to switch from fifth wheel hitch to gooseneck hitch in moments