Adapters for Towing a 5th Wheel Trailer with a Gooseneck Hitch
If you would like to tow a fifth-wheel trailer but you have gooseneck trailer hitch in your truck, you can choose from among several kinds of adapters that may help you. Some of these adapters attach to your gooseneck ball or use the ball hole of your gooseneck hitch, allowing you to hook up your fifth-wheel trailer without having to modify it. Other adapters mount to the trailer, allowing you to attach it directly to the gooseneck ball in your truck. Which option you choose depends on your particular circumstances.
You can choose from among these four types of adapters:
The safest and most secure option is a 5th-wheel adapter that replaces the trailer pin box

Doesn't cause any additional stress in either the trailer frame or hitch
Creates more of a permanent solution
Leaves your truck bed open for other uses
Made to fit specific pin boxes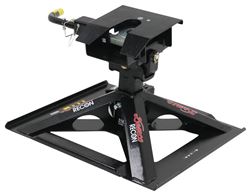 The last option is a 5th-wheel adapter that bolts to the king pin plate

Works well as a temporary solution
Can cause stress in the trailer frame and hitch
Some manufacturers recommend that their adapters not be used with pin boxes over a certain length

Always check for maximum recommended pin box length
This type of gooseneck adapter replaces the trailer's pin box. The Reese Goose Box, a popular adapter of this type, is designed to fit the most common fifth-wheel trailer pin boxes on the market. Since Goose Boxes are made to fit specific pin boxes, you'll have to check the plate or sticker on yours to determine the make and model. Goose Boxes are available for the following pin boxes:
The Goose Box features an adjustable air bag and dual shock absorbers to create a smooth, cushioned ride and to reduce stress on the trailer frame. Because this adapter replaces the king pin on your trailer, you won't need to measure for height. The Goose Box is approved by Lippert, a popular trailer frame and pin box manufacturer, and will not void their trailer warranties.
Some fifth-wheel trailer hitch adapters mount into a gooseneck ball hole. The Hi-Rise fifth-wheel trailer hitch lets you keep your Draw-Tite, Bulldog or B&W underbed gooseneck hitch for towing a gooseneck trailer, yet it lets you tow a fifth-wheel trailer when you need to. The Curt X-5 Gooseneck-to-5th-Wheel Hitch Adapter Plate connects to Curt Double-lock, Flip and Store gooseneck hitches, adding a set of fifth-wheel rails that accept standard fifth-wheel hitches, such as those made by Curt, Draw-Tite, Hidden Hitch, Reese, Valley and Husky.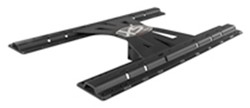 Great solution if you have to tow multiple trailer types with the same vehicle
Fifth-wheel hitch is easily removed when you need to haul cargo in the truck bed
The High Rise adjusts in height from 14-1/4" to 18" tall - the normal range of fifth-wheel trailers
The Curt X-5 comes in two models
The B&W Companion is custom made to fit into the square ball hole of the B&W gooseneck hitch
Another option is Demco's economically priced adapter for B&W turnoverball gooseneck hitches
This adapter mounts to the gooseneck ball in your truck bed The higher attachment point between the trailer and the hitch relieves stress on the trailer's frame and pin box.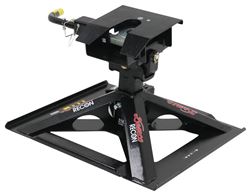 Hitch attaches to underbed gooseneck ball in the truck bed
Hitch height is adjustable
This type of fifth-wheel-to-gooseneck adapter is a tube that mounts around the fifth-wheel trailer king pin at one end and attaches to the gooseneck ball in the back of the truck at the other.
The pin box and king pin DO NOT have to be removed
Adapters can be heavy - an extra set of hands will help with installation
Not all trailers can use this type of adapter - confirm with the trailer manufacturer
Some manufacturers recommend that their adapters not be used with pin boxes over a certain length

Always check for maximum recommended pin box length
An adapter with an offset can give you a little extra clearance between the fifth-wheel-trailer overhang and the back of the truck cab. It can also create more clearance between the trailer and the back of the truck. Although the offset adapters will provide additional clearance, a sliding fifth wheel hitch or a fixed fifth wheel hitch and a sidewinder pin box will be required to safely execute a 90 degree turn on short bed trucks.
A cushioned adapter features polyurethane cushioning that absorbs the movement and jarring of the trailer, reducing bouncing and vibrations to give you a safer, smoother, and quieter ride.
Determining the Correct Height for Your Adapter
Adapters that fit around the king pin and attach to the king pin plate have to be the correct height so that you can tow the trailer level. Getting an adapter of the correct height is important for safe towing. Some adapters are height adjustable and others have a fixed height. The shortest available adapter is the Ranch Hitch adapter at 11-3/4 inches. The tallest is the cushioned gooseneck adapter at 16 inches. There is an easy way to determine what height you need for your truck-and-trailer combination.
Measuring Your Truck and Trailer
Back your truck into position as if you were hooking up your fifth-wheel trailer, making sure that the truck and trailer are level
Measure from the king pin plate down to the top of the ball in the bed of your truck
The measurement you get is the height of the adapter you will need
Also, five or six inches of clearance between the overhang of the trailer and side rails of your truck is necessary for safe operation.
Updated by: Raymond P.
Last updated: 10/29/18