Ram Trailer Tow Prep Package
Ram offers an underbed mounting system for fifth-wheel hitches as an option on new trucks starting in 2013. This system is designed for maximum convenience and versatility. The entire mounting system is located underneath your truck bed - no parts extend above it. The system will let you hook up a fifth-wheel hitch or a gooseneck ball.
The underbed mounts give you full access to your truck bed when you're not towing. When you want to tow, you install a hitch that fits into the pucks in the bed, or you can get an adapter that fits into the pucks and has slots to fit any standard fifth-wheel hitch.
Fifth-Wheel Adapters and Hitches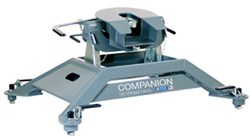 To install most industry standard fifth-wheel hitches available at etrailer.com on your Ram truck with factory tow prep package, you'll need to install part number RP30154 (rails), pictured above left. This part removes easily so you can still have a clutter-free bed when you're not towing. Hitches that fit directly to the factory mounts without the need for a separate adapter are available (pictured above right). Refer to the following table to find out more about these hitches.
Gooseneck Ball
A gooseneck ball that fits the Ram underbed mounting system is available. See part number RP30140, pictured above, for a gooseneck ball that comes with 2 safety chain hookups, a plug for the gooseneck ball hole, and a carry bag.