Recommended Electric Brake Assemblies and Hub Drums for a 26ft Gooseneck Trailer
Question:
i have a gooseneck trailer which has what i measure as having 5115 springs 6 leafs x 2 in and 5 bolt backer plates on 2 axles. im not sure of the weight or brand of axle but want to get new brakes and drums. the trailer is 26 ft and hauls probably around 14 - 15000 lbs. any suggestions would be greatly appreaciaed. thanx ! only thing on the title is RDCP
asked by: jay
If your brake assemblies mount on a plate using 5 bolts, you most likely would be looking for a 12 inch diameter brake assembly like part # AKEBRK-6R and # AKEBRK-6L, but you could verify this by measuring directly across the center of your drum or the brake assembly.

To recommend the correct hub drum for your application, I would need to know your current hub bolt pattern, as well as the bearings it uses.

In order to determine your hub drum bolt pattern, you would need to measure center to center on bolts directly across from each other on the circle. If you have an odd number of bolts, measure from the center of any bolt to the point halfway between the two bolts directly across from it on the circle. The first number of your bolt pattern would be the number of bolts your hub has, and the second number would be the center to center diameter between them.

The easiest way to determine which bearings your hub uses would be to check the bearings for industry standard numbers. These are usually lasered onto the back side of the bearing.

If you cannot identify the numbers on your bearings, I would recommend using a set of calipers to measure the inner and outer bearing diameters. If you could provide me with your bolt pattern and either the bearing numbers or diameter measurements, I would be glad to recommend the correct hub drum application for your needs.

If you take a look at the included link you can see a video demonstrating how to measure for the correct bolt pattern.
Ask The Experts a Question >>
Question:
thay are 12 inch drums on 8 x 6 1/2 pattern. i pulled a bearing this morning and the info is : POLANO, FLT - 8, 14125 A, E9. and the springs are 6 leafs x 2 in. and the backer plates have 5 bolts. i plan on replacing all 4 plates and possibly the drums. thanx !
asked by: Jay
From your information, you would most likely be able to use a hub drum like part number # AKHD-865-7-2-K, which has an 8 on 6-1/2 bolt pattern and uses bearings # 14125A and # 25580.

The compatible brake assemblies would be parts # AKEBRK-6R and # AKEBRK-6L. Brake mounting plate # 4-44-1 would be a good match for the 12 inch brake assemblies, and you may also need to replace the nuts for the mounting bolts. We offer brake mounting bolt nut # 38N.
Ask The Experts a Question >>
Product Page this Question was Asked From
Electric Trailer Brake Assembly - 10" - Left Hand - 3,500 lbs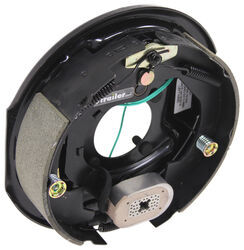 (

508

reviews)
Code: AKEBRK-35L
Retail:$35.89
Our Price: $29.61
Accessories and Parts
Trailer Brakes
Electric Drum Brakes
LH
3500 lbs
Brake Assembly
Manual Adjust
10 x 2-1/4 Inch Drum
etrailer
more information >
Featured Help Information
Miscellaneous Media