Towing Your Vehicle: A Basic Overview
The most common reason for towing a vehicle is basic convenience. Having your everyday vehicle with you means that you don't have to manuever a large, unwieldy motor home through back roads or parking lots when driving to and from your campsite or heading out on errands.
You can use a trailer to tow your vehicle, or a tow dolly, but both of these options take up too much space at campsites and RV parks. A more convenient, space-saving method of towing your car is to use a tow bar. With a tow bar you can easily bring your everyday vehicle with you on your trips, quickly detach once you arrive at your destination, and store the towing system components out of the way until you're ready to hitch up and leave.
There are 5 basic components required to flat tow a vehicle ("dinghy") with an RV or other vehicle ("tow vehicle").
Tow Bar
The tow bar is the most recognizable part of a towing system. It is designed to link your dinghy to your tow vehicle so that it can be safely flat towed. The function of the tow bar is the same regardless of model or manufacturer. The differences lie in the type of mount, towing capacity and basic design.
Beyond those aspects, there are a wide variety of features associated with the various models, all of which are discussed in detail in the Roadmaster Tow Bar Features and the Blue Ox Tow Bar Features.
Mounting Options
RV-mounted tow bars provide the most reliable, direct connection. Because this type of tow bar inserts into your motor home's trailer hitch receiver, there is no need for that additional connection point that car-mounted models require. Not having to use a coupler means that there is one less spot at which your system can become uncoupled. And there is no annoying rattle and play like you may find with a coupler.
Using a hitch lock you can secure the tow bar to your receiver. And because most RV-mounted tow bars can be safely stored on your motor home when they're not being used, you won't have to worry about packing away your tow system at the campsite.
The benefits of an RV-mounted tow bar include:
Sturdy, stable connection - no coupler needed
Safe, secure storage

Lock tow bar to receiver with hitch lock
Fold tow bar up and stow it alongside motor home

Less hassle - no need to remove for storage; no need for separate ball mount and coupler
Easy to adjust - use a hitch adapter to achieve the rise or drop required to match your dinghy's height
Car-mounted tow bars were the first introduced to the towing and RVing market. They function the same as an A-frame trailer, attaching to the trailer hitch ball on your RV with an integrated coupler.
The benefits of a car-mounted tow bar include:
Economical models are made for occasional RVers
Integrated coupler can be locked to hitch ball for security
Couplers for 2" and 2-5/16" balls, as well as pintle hitches, are available
Design and Structure
The design and structure of tow bars varies between manufacturers. The basic configuration, though, is similar to that of an A-frame trailer. The tow bar attaches to your dinghy at the ends of the tow bar arms. The other end of the bar then hitches up to your tow vehicle via either an integrated coupler or by means of a receiver mount.
Crossbar vs. Hidden Brackets

Some tow bars include a crossbar that mounts between the arms near the connection point between your tow bar and dinghy. This is designed to lend extra support for your towing system.
Not all tow bars require this additional support. Some base plate kits are made to attach to your dinghy's frame in such a way as to provide enough support for it to be towed without the aid of a crossbar.
Fixed vs. Telescoping Arms

Some economical, car-mount tow bars are made with rigid arms that do not adjust.
Tow bars with adjustable arms are easier to hook up. You do not have to drive your dinghy into an exact position to connect your towing system rather; you pull the telescoping arm out, or push it back in, to get the length you need.
Extra Features of Tow Bars:
Non-binding release latches

Hassle-free disconnect, even on unlevel ground

Self-aligning arms

Telescope to make hookup a breeze
Automatically center and lock when pulling away

Aluminum construction instead of steel

Lightweight for an easy-to handle, simple-to-store tow bar

Pivot joints

Allows arms of tow bar to pivot and adjust for quick, simple hookup on unlevel ground
High/Low Adapters
When your dinghy is connected to your motorhome, the tow bar should be within 3" of level. If it is not within this acceptable range of level, you will need to use a high/low adapter to properly connect up. Click here to learn more about high/low adapters.
Base Plate Kits
Base plates are the only piece of the puzzle that is vehicle specific. A vehicle that is being towed requires custom-designed base plates that specifically fit its frame. Once installed on your car's frame, the base plates provide attachment points for your tow bar.
Base plates install on your dinghy's frame using as many existing attachment points as possible without sacrificing strength or safety. When multiple base plate kits are available for a specific vehicle, installation will be nearly the same for each kit. The differences lie in the draw bar type and the number of frame bracket pieces. Typically, base plates consist of two main parts:
Frame bracket(s)

Mount directly to the dinghy's frame

Draw bar arms provide attachment points for the tow bar.

Removable arms

Attach to the frame brackets using a pin and clip or twist-lock feature
Create cleaner look with no visible brackets

Fixed arms

Welded to the frame bracket
Visible at all times
Typically, more economical option
Roadmaster offers four different styles of base plates. To see a detailed overview of Roadmaster base plates, click here. Blue Ox only offers one type of base plate. To learn more about their lug-style attachment system, click here.
While most base plate manufacturers try to construct products to fit as many applications as possible, it is not uncommon to find that the company that made your tow bar does not have base plates for your vehicle. If you have a tow bar and base plates that are manufactured by different companies, you will need to purchase an adapter.
Why are adapters necessary?
Each tow bar manufacturer has a unique type of connection that is used to secure the tow bar to the base plate arms.
Roadmaster base plates
Most Roadmaster tow bars and base plates use quick disconnects to attach the base plates to the crossbar and tow bar.
One quick-disconnect bracket attaches to the tow bar arm or the crossbar
Other quick-disconnect bracket attaches to the base plate draw bar arm
Both brackets then interlock with one another and are secured together with a linch pin
Blue Ox base plates
The draw bar arms have two lugs that interlock with the lugs on the ends of the tow bar arms and then secure in place with a pin and clip.
Demco
The draw bar arms have two-prong ends that slide around the tow bar arm extensions and secure in place using a pin and clip.
So...
If you have a Blue Ox tow bar, but you only have Roadmaster base plates with quick disconnects, then the Blue Ox triple-lug ends on the tow bar arms will not work with your base plates. The adapter you need will have one side that connects with the lugs on the Blue Ox tow bar and one side that has quick disconnects for use with Roadmaster base plates.
If you need an adapter, but aren't sure which type, consult the table here to help you choose.
Safety Cables
Safety cables are crucial for any tow bar setup and are required by law in most states. They ensure that your dinghy does not detach from your RV in the event that your tow bar somehow uncouples from it, or that your dinghy uncouples from your tow bar.
In most towing setups, safety cables link two or three components together:
The long cable connects the RV hitch to the base plate arms on the dinghy
The small cable connects the base plate arms to the frame-mounted brackets on the dinghy
Long, straight cables
Designed for tow bars that have integrated cable channels
Note: Cables should not be wrapped around Blue Ox tow bars with protective rubber boots.
Long, coiled cables
Won't drag during towing
Note: Do not use coiled cables with tow bars that have safety cable channels.
Short safety cables
Required when using the Roadmaster EZ or XL base plates
Connect removable draw bar arms to base plate brackets
Designed to hold your tow system in place if the draw bar arms become disconnected from the dinghy's frame brackets
Tow Bar Wiring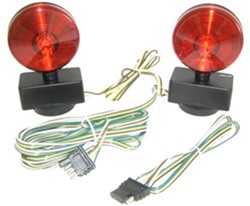 You are required by law to have a lighting system on your dinghy that functions in sync with your tow vehicle's tail lights.
Removable exterior light kits
Magnetic towing lights
Hitch-mounted light bar
Separate tail light bulb kits
Mounts inside vehicle's tail light housing
Bypasses dinghy lighting system
Diode light systems
Wires in-line with dinghy's existing tail light bulbs
Requires little to no maintenance after initial installation
Wiring extensions
Connect towed vehicle wiring to motorhome wiring
Most installations require an extension
Charge line kits
Allows RV or motorhome to charge towed vehicle's battery while towing
Connects from 6-way or 7-way plug at front of towed vehicle to it's battery
Keeps towed vehicle's battery charged if that battery is used for powering a braking system
A power line must be present on the RV or motorhome
If power is not at the 6-way or 7-way plug on the RV or motorhome, then a charge line kit made for RVs and motorhomes must be installed
For detailed information on the types of dinghy lighting available, click here.
Supplemental Braking Systems
Required in most states and Canadian provinces
Can decrease braking distance up to 30 percent on some towing setups

Minimizes wear on both vehicles and smoothes braking

Maintains RV warranty

Many RV manufacturers will only honor your warranty if a braking system is in place when towing
For more information on supplemental braking systems, click here.
General Setup Tips
Before deciding on a tow system:
Be sure that your dinghy can be towed before taking it on the road. Some vehicles must be equipped with a transmission lube pump, an axle disconnect, a drive-line disconnect or free-wheeling hubs before they can be towed with a tow bar. Failure to properly equip your vehicle could lead to severe damage to its transmission. Check your owner's manual or call your dealer for specific information on your vehicle.
If your vehicle cannot be towed for any of the above reasons, you may be able to use a tow dolly instead.
Initial setup
Never exceed the maximum weight capacity of your tow bar, or of any other component of your towing system
Always hook up on level ground - even non-binding tow bars may be difficult to maneuver if your system is not in line
Set your dinghy's steering and transmission to "tow"
Check to make sure tow bar arms are locked in place before heading out
Towing tips
Ensure that your tow bar setup is as level as possible, from the hitch of the tow vehicle to the base plates of the dinghy.
Improper leverage on the RV and dinghy can cause stress and wear on the tow bar as well as the base plates
When braking, stress is applied to your towing system and to the frames of both your RV and dinghy as a result of the downward braking force placed on the fronts of both vehicles. This can cause flexing at the base plate installation points and adversely affect both the frame and suspension of your towed vehicle.
The end of the tow bar that attaches to the base plates should not exceed a rise or drop of 3 inches from the center of the RV hitch receiver
A Measure the height from the center of your hitch pin hole on the RV to the ground
B Measure the distance from the center of your dinghy's draw bar arms (when installed in frame brackets) to the ground
Subtract the difference C = A - B

If there is more than a 3 inch difference, higher or lower, a hitch adapter is needed.
Safety cable tips
Cross your safety cables under the coupler of your tow bar as an extra safety measure

Prevents the front of the tow bar from dragging in the event of a disconnect

If the tow bar were to hit the ground during a disconnect, it could cause the dinghy to jackknife into the tow vehicle.

Use quick links

Place quick links on the RV's hitch and the dinghy's base plates to make clipping on safety cables quick and easy
No awkward hookups; just a clip that attaches to the cable hook
Updated by: Raymond P.
Last updated: 7/3/18