Can I Install Air Lift LoadLifter Air Helper Springs on 2017 F-150 with B&W Turnover Ball
2017 F-150 5 1/2 ft bed 2wd BandM Turnover installed Would like a video on installation of AL57268 with the BandW already installed. Also, I'm assuming this is the right model Air Lift kit for my situation. Thanks.
asked by: Bryan S
Yes, the AirLift LoadLifter 5000 Air Helper Springs part # AL57268 are a fit for your 2017 Ford F-150 5 1/2 foot bed with a B&W Turnover ball install part # BW77FR if your truck has 4WD. We do not have an installation video at this time that shows both the turnover ball and air springs on a Ford F-150. We rely on local customer installations for our videos and we have not had this installation combination yet, but I have attached two photos showing where the parts attach and how they do not interfere with one another. The brackets of the B&W Turnover ball Gooseneck Hitch install on the side of the frame rail. The upper brackets of the AirLift LoadLifter Air Helper Springs install on the bottom of the frame rail.

I also recommend adding the Air Lift WirelessOne Compressor System part # AL25980 because the WirelessOne allows you to quickly and easily inflate your airbags from inside or outside of the truck with the wireless remote without carrying around a bulky air compressor with you. You can also program 3 different PSI levels so the compressor automatically adjusts to the pressure you set it at for daily driving or towing instead of adjusting the air bags every time you get in the the truck. I have attached an installation video of both the airbags and the compressor system.
expert reply by:
Heather A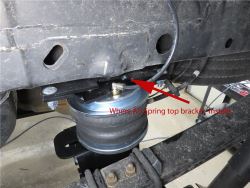 click to enlarge
Ask The Experts a Question >>
Featured Help Information
Instructions
Miscellaneous Media