What Makes Trailer Tires Wear on the Inside Only and Can 175/80-13 be Replaced With 185/80-13
Question:
I have loadstar st175/80 D13 tires that seem to be wearing on the inside only???? Also could I go to a st185 tire?
asked by: Bob A
Expert Reply:
There are a couple of things that can lead to the tires wearing on the inside only. Basically what is happening is the top of the tire is leaning in towards the trailer causing most of the weight to ride on the inside. This pretty much means the axle is bent, especially if both sides have the same problem. If it were just one side, there is a chance that is just the spindle that is bent. It will keep wearing on the inside until the issue is resolved and that could mean a new axle.

You could potentially go to a larger size tire. Both a 175/80-13 and 185/80-13 tire will fit on a 4-1/2, 5. or 5-1/2 inch wide by 13 inch diameter rim. However, the 185 will be taller and wider. You will have to measure the space around the existing tires to see if there is room for a larger size.

A 185/80-13 will be about 3/8 inches wider (0.394 inches wider) and about 5/8 inches taller (0.6304 inches taller). If you determine the larger size will fit, we have # AM1ST79. It is rated for 1,725 pounds at 65 psi.

I have included a link to our tire FAQ article for you.
expert reply by:
Michael H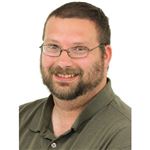 Ask The Experts a Question >>