Flat Towing Recommendations For A 2015 Jeep Wrangler Unlimited Sahara With Quadratec Bumper
Hello. I have a 2019 Jayco Precept 34G. Wanting a tow setup for my 2015 Jeep Wrangler Sahara Unlimited. It has a Quadratec Modular Winch Ready Front Bumper for 07-18 Jeep Wrangler JK. Ive also attached a pic of both my jeep and the bumper from Quadratec. What part numbers do I need to tow with? Looking at the roadmaster setups. Thanks!
asked by: Phillip R
I spoke with Quadratec and was able to confirm that your Qaudratec Bumper #12057.0210 is rated to flat tow. You'll be able to use the the Roadmaster D-ring mount adapters and tow from your D-ring mounts instead of a lengthy base plate install that would require you to alter or remove your bumper. If your mounts are 1" thick you'll want the # RM-035-1 or for 3/4" thick mounts the # RM-035. You'll also need a tow bar, tow bar wiring kit, braking system, and safety cables. I have the following recommendations for you below:

Tow Bar: Roadmaster Falcon 2 Tow Bar - Motorhome Mount - 2" Hitch - 6,000lbs Item # RM-520. This tow bar will attach to the D-ring adpaters by removing the direct-connect hookups from the arms and sliding on the adapters.

Tow Bar Wiring Kit: Roadmaster Universal Hy-Power Diode Wiring Kit Item # RM-154. This wiring kit will splice into your vehicle's wiring to signal using your tail lights instead of running magnetic lights to the rear of your vehicle every time you need to tow.

Braking System: Brake Buddy Select 3 Portable Supplemental Braking System - Proportional Item # HM39524. This system offers intense, emergency braking or steady, smooth braking in a single portable system. Easily switch between proportional or full braking from your RV with the remote. The included charge line kit will also keep your vehicle's battery charged while towing.

Safety Cables: RoadMaster 68" Single Hook, Coiled Safety Cables - 6,000lbs # RM-643. The coiled design of these cables will prevent them from dragging on the ground.

There are some steps listed in your owner's manual that you will need to follow to get your vehicle ready to flat tow. You can find them under "recreational vehicle towing" or "dinghy towing".
expert reply by:
Kevin C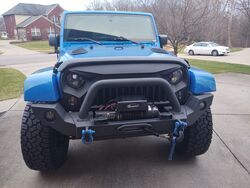 Customer Jeep
(click to enlarge)
Ask The Experts a Question >>
Featured Help Information
Instructions
Miscellaneous Media