Where to Install E-Tracks in Enclosed Trailer Carrying Polaris ATV and Motorcycles
Question:
I BOUGHT 3 10foot STRIPS OF E-TRACK MAY NEED MORE . ONE PIECES DOWN EACH SIDE AGAINST THE WALL AND ONE IN MIDDLE SO I CAN USE IT FOR MOTORCYCLES, WHEEL CHOLK, STREET OR DIRT BIKE. THE MAJORITY OF USE WILL BE TO HAUL POLARIS RAZOR. WHAT IS THE BEST WAY TO INSTALL THE E-TRACK SYSTEM? WOULD YOU SUGGEST UNDER THE TIRES OR AGAINST THE SIDE WALLS? THE RAZOR WILL BE TO ONE SIDE OF TRAILER FOR ROOM TO GET OUT OR IN NEED A BIGGER TRAILER. THANK YOU.
asked by: JERRY
Expert Reply:
Since you will be using your E-Track system, part # E19148, for transporting more than one type of vehicle, you will want to try to find mounting locations that will work for all of them. The main consideration for deciding where to mount the E-Tracks is to select locations that provide access to structural components, such as wall studs and floor supports. These structural elements of your trailer will serve as the backbone of your E-Track system. It is important that the tracks mount to the strongest structural portions of your trailer as this will give you the highest actual load capacity.

The priority will be to place the tracks on the floor of your trailer, since your ATV and motorcycles all will need downward force toward the floor of the trailer to secure them. If you plan to use additional E-tracks on the walls of your trailer for extra horizontal support, you may want to consider the smaller 2-foot versions, part # EM59150, and position these exactly where their extra side-to-side support will be needed. If you need more E-Track for your trailer floor, these shorter sections may be long enough and even save you some money as compared to the 5-foot sections.
We also offer a backing plate # BPEZ to allow reinforcement at the track installation point.

When transporting street or dirt bikes, this spacing between the tracks should also be ideal for using E-Track Tie-off rings, part # 59131. Please see included video. These can be used with cam-buckle tie-down straps, such as the Erickson E-Track 2 inch D-Ring, part # E59143, which allows you to use almost any type of strap, rope or tie-down.

The E-Tracks cannot deliver their full capacity unless installed according to the manufacturer's recommendations. Note that at least 2 fasteners per linear foot are recommended. So for example a 2-foot section would require at least 3 fasteners on each side, for a total of 6.

I have included two demo videos showing installation of the E-Track system and of the tie-down cam buckle straps.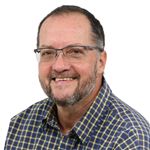 Ask The Experts a Question >>
Products Referenced in This Question
Product Page this Question was Asked From
Erickson Horizontal E-Track - Zinc Coated Steel - 2,000 lbs - 5' Long - Qty 1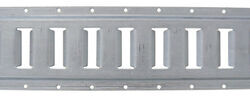 (

285

reviews)
Code: E19148
Our Price: $28.00
Tie Down Anchors
Trailer Tie-Down Anchors
Track Systems and Anchors
E-Track Parts
5 Inch Wide
2000 lbs
E-Track Track
5 Feet Long
Erickson
more information >
Featured Help Information
Miscellaneous Media