Wiring Diagram for a 1997 Peterbilt Semi Tractor with 7-Pin Round Connector
Question:
What is the color codes and wiring for a 7 pole round pins for a semi tracor and traiker. A desription of what each wire is for would be greatly appreciated. THANK YOU
asked by: Horsepower U
Expert Reply:
The wiring color codes and wire gauge recommendations for the Pollak Heavy-Duty, 7-Pole, Round Pin, Trailer Wiring Connector, item # PK11700, are listed below.

White - Ground Return - 8 gauge
Black - Clearance, Side Marker, Identification - 12 gauge
Yellow - Left Turn and Hazard Signal - 12 gauge
Red - Stop Lamps and Anti-Lock Devices - 10 gauge
Green - Right Turn and Hazard Signal - 12 gauge
Brown - Tail, Rear Clearance, Marker and License-Plate Lamps - 12 gauge
Blue - Auxiliary Circuit/ABS - 10 gauge

I have also linked photos that show the wiring connections in detail for both the vehicle side connector, item # PK11720, and the trailer side connector that you referenced.
Click to Enlarge
Click to Enlarge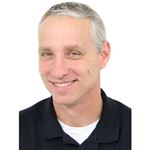 Ask The Experts a Question >>