Draw-Tite Trailer Hitch - 75678
Fully welded vehicle trailer hitch is strong and durable. Draw-Tite's Tested Tough guarantee ensures that this hitch exceeds industry standards. The combination of an e-coat base and a powder coat finish provides excellent rust protection.
Features:
Custom-fit trailer hitch lets you tow a trailer or carry a bike rack or cargo carrier with your vehicle
Computer-aided, fully welded steel construction ensures strength and durability
Tested Tough - safety and reliability criteria exceed industry standards
Easy, bolt-on installation - no welding required

Complete hardware kit and installation instructions included

Lifetime technical support from the experts at etrailer.com
Black powder coat finish covers e-coat base for superior rust protection
Stylish, round-tube design
Ball mount, pin and clip sold separately
Specs:
Receiver opening: 2" x 2"
Rating: Class III

Maximum gross trailer weight: 3,500 lbs

Maximum GTW when used with weight distribution: 4,000 lbs

Maximum tongue weight: 350 lbs

Maximum TW when used with weight distribution: 400 lbs

Limited lifetime warranty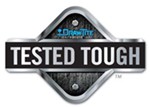 Draw-Tite Tested Tough
Draw-Tite's Tested Tough program provides testing standards far superior to those outlined by the Society of Automotive Engineers (SAE), the go-to source for engineering professionals.
Each Draw-Tite trailer hitch receiver undergoes extensive fatigue testing and static testing with the ball mount that is either supplied or recommended for use with that particular hitch, thus ensuring results that are applicable to real life use. Fatigue testing is also conducted on hitches rated for use with weight-distribution systems.
In addition, Draw-Tite performs static testing on a simulated automobile, as opposed to the rigid fixture used for SAE testing, resulting in a more true-to-life scenario.
etrailer.com Technical Support
At etrailer.com we're committed to the products we sell, and to our customers. Our experienced and knowledgeable staff are available via both phone and email to address your questions and concerns for the lifetime of your hitch. The technicians at etrailer perform hitch installations on a daily basis, making them a valuable resource for do-it-yourselfers. The one-on-one, personal service you'll receive comes straight from an expert in the towing and automotive field. We've installed it, we've wired it and we've towed with it, so whatever your question, we can answer it.
75678 Draw-Tite Class 3 Trailer Hitch Receiver - Max-Frame
87570 Hidden Hitch Class 3 Trailer Hitch Receiver
Installation Details

This Product Fits The Following Vehicles
2010 - 2013 Ford Transit Connect
Customer Reviews
Draw-Tite Max-Frame Trailer Hitch Receiver - Custom Fit - Class III - 2" - 75678
Average Customer Rating: 4.9 out of 5 stars (30 Customer Reviews)
Fully welded vehicle trailer hitch is strong and durable. Draw-Tite's Tested Tough guarantee ensures that this hitch exceeds industry standards. The combination of an e-coat base and a powder coat finish provides excellent rust protection.
- 75678
by: Dave I.07/22/2012
I am not a mechanic nor do I consider myself a "car guy." I was still able to do the installation on my own although I did have some help (my wife held up one side while I bolted the other side). The installation was easy - pretty much a "no brainer." I found the most difficult part was dealing with the spare tire. It took some time to disconnect and re-connect the spare tire's lowering cable. The hitch is well made and sturdy. Ordering from etrailer was easy. They kept me well informed during the ordering and shipping process. I'd give them 4 thumbs UP if I had 4 thumbs. I only have 2 so...2 thumbs UP etrailer.com! 48884
- 75678
by: Hawaii Truck Upfitters09/18/2014
easy installation, and well manufactured at a great price! 151956
Comments
I actually installed the hitch for a customer. I do not own the vehicle it was for. As for the customer I have not heard any complaints or concerns and they should be happy with the product. Thank you for your follow up and inquiry.
Hawaii T - 09/28/2015
15274
- 75678
by: david03/27/2015
The hitch slipped right in the first time, nothing needed to be adjusted or forced. Nice. 181176
- 75678
by: no name04/03/2013
This took 10 minutes to install! 74070
- 75678
by: Rick and Ann 63 ys old09/10/2013
We bought this receiver for a cargo carrier for retirement traveling. We backed onto double 2x6's to get more room. We put the hitch on jack stands. But I was not strong enough to lift it. We then put a 2x2 through the hole and zip tied to the spare tire cable and Ann winched and I guided the hitch up and bolted it on. We love the hitch because the square hole is out far enough we can pin the carrier on and safety chain on without reaching under the van. Also good spot to hook for a snow bank winch out. 99241
- 75678
by: michael Smith08/18/2016
the hitch mounted very easy, with no problems. the wireing harness was put togeather in a complete packet, and very simple to enstall. we was able to put the small black box into the left rear light houseing for total wether protection, and spliced the two wires over to the right rear light housing unit. when finished, it looked very professional done. not so much on our part, but the quality of the products that you supplied sorry about not having any pics, they did,nt come out very good 285333
- 75678
by: Tom Jordan07/28/2016
Received my hitch from Etrailer the other day. Was astonished with the size and weight of the assembly and how easy it was to install. Had a little bit of trouble with the wiring harness on the passenger side rear tail light as they is no access to the tail light through a rubber grommet so I had to be inventive. But all in all it took me about 45 min to install the hitch and 2 hrs to run the wiring harness. I'm very please with the product and will recommend Etrailer to future clients. 277001
- 75678
by: Steve K06/01/2014
Received in good order. Have not used it yet....but everything seems OK. Product is great. Easy to install. Am happy to report that representative named Mark M ...led me to the correct item that fits my vehicle ..... and I am satisfied with the choice. Speaking with someone who totally understands what you are seeking and is able to assist you the first time around...makes purchasing easier and a satisfying experience. Thank you so much for your help.... Steve S 133578
- 75678
by: Tim I.04/12/2016
Nice sturdy hitch - fits our 2013 Transit Connect just fine, though the spare tire presses against the right side, but should not be a problem - it's really tight in there but that's more an issue of the van than the hitch - the instructions were helpful especially dealing with the two wire bundles - please note that you'll need an 18mm socket for the bolts - I'm using it to hold a Yakima bike rack and I'm sure it's strong enough for that 243935
- 75678
by: Matt06/07/2016
Always concerned about such a big item working right, because return shipping would be a nightmare. Happy to say, the receiver hitch installed easy and works great with my hitch bike rack. It was delivered quickly. Clear, simple instructions included. Took about 30 minutes to install. No special tool or skills needed. Will never pay double again at ... when installing at home is so easy with etrailer! 258614
- 75678
by: Chris C.01/26/2015
Excellent hitch. Installed easily per instructions, looks good. My only concern is that it sticks out from the bumper on my 2013 Ford Transit Connect about 4 inches. I think all hitches for this model would be the same fit due to the vehicle. Quick shipping and prompt emails from E-trailer. Great service. 171259
- 75678
by: Rich05/06/2015
Item arrived in good condition and installed reasonably easily. Removing/re-installing the spare tire took longer than installing the hitch. Watch the alignment of the hitch before tightening down the bolts. The spare rubs against the hitch a little bit, but it doesn't look like that will cause any issues. 190913
- 75678
by: MH10/05/2016
Great hitch mount!! Super easy to mount- no need to drop exhaust or anything fancy. I mounted up my Thule 2 bike platform rack and it looks snazzy! Plenty of ground clearance too. Thanks etrailer for making it easy for me! 303665
- 75678
by: Bob spr.07/06/2012
I've purchased several times from e-trailer , I like value for my money . I'm extremely happy with all aspects of this and past purchases. I would highly recommend to friends . Thank you e-trailer ! 46977
- 75678
by: Bill G.11/27/2013
The box arrived promptly and the hitch looks good, but it arrived chipped in a couple of places. I hope they aren't visible. 108674
- 75678
by: Bill L.08/03/2012
Very simple installation. You'll need a helper, or a jackstand, if you do this on the ground in your driveway like I did. 50426
- 75678
by: Jim S.08/25/2014
The hitch was a perfect fit, and easy to install. I ordered it on Monday, got it Tuesday. Great service. Great product. 148436
- 75678
by: Mark03/26/2014
shipping was very very fast the installation went well and talk about the same amount of time as they say 30 minutes 122355
- 75678
by: Tom H.08/11/2013
Easy to install by myself on my 2013 Ford Transit Connect (with the help of ramps and logs). The fit was spot on. 94438
- 75678
by: Taylor11/19/2012
Shipped in timely manner. Installation was a snap approx 20 min. No need to lower exhaust.Sure it will tow well . 59745
- 75678
by: Jerry11/16/2015
Excellent product and service. Easy installation, straight forward with minimum tools. Takes about 15-20 min. 232057
- 75678
by: Bob10/13/2016
It would have been helpful to know that the bolts are 18mm as a 3/4" socket slipped. 306500
- 75678
by: Dave H01/19/2012
Very heavy duty hitch for such a small vehicle. Lightning fast shipping. A++++++++++ 29909
- 75678
by: Jose08/03/2016
Item was shipped fast!! Very accurate and in excellent condition A++++ 279303
- 75678
by: R Johns06/03/2011
Great product, was very easy to install! looks great! Thanks! 16035
- 75678
by: John05/28/2016
Perfect fit, installed in less than 30 minutes. !! 252940
- 75678
by: nigel05/02/2011
so far so good. easy install. quick shi pment 12701
- 75678
by: D. Rose12/08/2014
Great product and lightning speed deliv ery! 163745
- 75678
by: Wade07/23/2011
Fast shipping, Easy install. Very Plea sed. 20071
- 75678
by: GaryL23006/13/2014
Great product went in as directed... 135467
35
35
Why etrailer.com?
At etrailer.com we guarantee:
Highest quality trailer hitch for the best price.
Real product know-how.
We make sure that the products we sell are what we say they are, and that they work the way they are supposed to work. This helps you get the right product the first time.
Every day our teams test, review, assemble and install our products. Our modern installation facilities allow our expert installers and customer service representatives to actually install and use the items we sell, so you can get real advice, from a real person who has the knowledge and expertise needed to solve your problem.
Most detailed, accurate trailer hitch information available.
Because we take providing accurate product information seriously, we take our own detailed product photos, demo videos and installation videos, as well as verify measurements, instructions, and vehicle fit information.
Information for this part was:
Installations, made easy.
We love helping people.
We have the most highly trained customer service, hands-on experience, step by step videos and installation instructions. We are prepared to answer any question, give advice, or troubleshoot any problem you come across.
Fast shipping.
Personalized service for life.
We provide one-on-one, personalized service from the ordering process through the life of your product.
Trusted since 1946.
We've been serving customers since our parts store first opened in 1946 and continue to be recognized by our customers, our vendors and third parties for exceptional service.