Draw-Tite Fifth Wheel - 9480-5W
This fifth-wheel hitch has a strong single-piece jaw for superior jaw-to-king-pin contact. A 4-way pivoting head and a 9" wide funnel make hookup quick and easy. Offset legs provide excellent stability. Hitch removes for full bed access.
Features:
5th-Wheel hitch mounts in your truck bed so you can tow your 5th-wheel trailer
Rail-free design allows for full access to truck bed when hitch is removed
Forged, single-piece jaw wraps around king pin to provide excellent jaw-to-king-pin contact

Maximum security with less rattle and chucking

9" Wide funnel (rather than traditional 6" wide funnel) provides larger area for guiding king pin into hitch
Extended-length, lockable handle lets you easily secure trailer to hitch with padlock (sold separately)

King pin indicator keeps hitch from locking until connection is secure

4-Way head pivot for faster, easier hookup, even on unlevel ground

10-Degree front-to-back pivot
4-Degree side-to-side pivot

4 Height settings to fit your application
1-Piece, offset legs offer a wide stance for stability
Adjustable stabilizer strips attach to hitch base and fill truck bed corrugation to keep hitch flat in your truck bed
Durable black powder coated steel resists corrosion
Simple installation with custom underbed mounting kit

(sold separately)
Specs:
Gross towing weight: 18,000 lbs
Vertical load limit: 4,500 lbs
Hitch height: 14-1/4" - 18"
2-Year limited warranty
Note:
This fifth-wheel trailer hitch is not compatible with Sidewinder or Revolution king pins. Do not use any device that changes the pivot point of your trailers king pin with this hitch.
Bed liners and bed mats may affect the fit of this adapter and trimming may be necessary.
This adapter will not work with gooseneck hitches that have a pop-in ball.
Full Truck Bed Access
The Hi-Rise fifth-wheel trailer hitch is designed to give you full truck bed access when you're not towing. Because the Hi-Rise installs in an underbed mounting system instead of on above-bed base rails, you can remove the hitch when it's not in use, leaving your truck bed completely open for cargo.
Simple, Stable Installation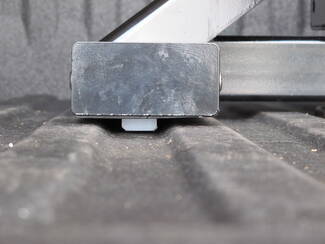 The included round post attaches to the Hi-Rise hitch and drops into the underbed mounting system (sold separately). Stabilizer strips on the base of the hitch fit into your truck bed's corrugation to limit movement. The fifth-wheel base has offset legs for improved stability. The longer back legs brace the hitch to ensure that it stays planted in the truck bed, even during emergency braking situations.
Forged, Self-Latching Jaw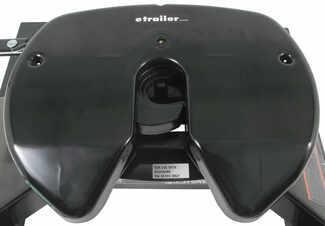 The single-piece, self-latching jaw on this fifth-wheel hitch provides absolute security with its wraparound design. Increased jaw-to-king-pin contact results in not only a stronger connection, but less rattle and movement as well. And the convenient lock indicator on the hitch handle ensures that hookup is complete and secure before you can lock your trailer to your hitch.
Pivot Action for Simple Hookup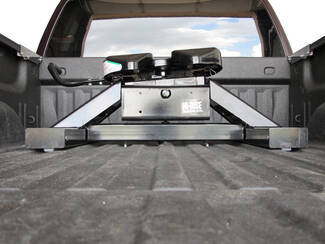 It's easier than ever to hook your fifth-wheel trailer up to your hitch thanks to the 4-way pivoting head on this fifth-wheel hitch. The 10-degree front-to-back and 4-degree side-to-side movement make hookup easy, even on unlevel ground.
9480 Draw-Tite High Rise Fifth-Wheel Trailer Hitch
Installation Details