Only Left Side Brake and Turn Signals Working on Boat Trailer
Question:
I have a new boat trailer 5pole also trailer brakes.All worked fine for a few weeks. One night while backing up boat trailer noticed only brake lights were working. was in hurry so unhooked and left. Next day hooked trailer back up to truck and only had left side brake and turn signal. Needing to leave I hooked it to second truck turned on headlights all lights on trailer came on and imediatly went off again with same brake and turn signal only thing working. Then was stupid and hooked to third vehicle same results. Then hooked up all three vehicles to utiliy trailer and nothing worked right . I am sure there are blown fuses but what would cause this. Thanks
asked by: Alan G
Expert Reply:
This sounds like a ground problem. A loose, broken, or corroded ground connection can cause all sorts of unwanted problems for electrical components including trailer taillights.

I would start with checking for a proper ground at the taillight itself. Trailer tail lights can be grounded in one of two ways. The first way is the tail light assemblies can be grounded by a separate wire coming out of the back of the tail light and attached to the trailers frame. The second way is the tail lamp assembly is grounded through the mounting bolt that attaches the tail light to the frame.

You will also want to check the ground at the front of the trailer for any dirt or corrosion. Finally, check to make sure the actual connectors on both the truck and trailer are clean and free of corrosion. A bad ground or dirty connections are the two most common causes of lights not functioning properly.

I am including a couple of links to videos on troubleshooting the ground wire that should help. Also, a link to a FAQ page on trailer wiring.

After correcting the trailer lighting problem you will want to check the fuses in the vehicles to see if they will need to be replaced.
Ask The Experts a Question >>
Product Page this Question was Asked From
Adapter 7-Pole to 4-Pole and 5-Pole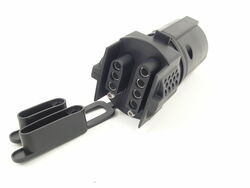 (

60

reviews)
Code: 37385
Retail:$18.95
Our Price: $17.06
Wiring
Wiring Adapters
Multi-Function Adapter
7 Blade
Plug Only
4 Flat
5 Flat
Hopkins
more information >
Featured Help Information
Miscellaneous Media