The Draw-Tite Front Mount Hitch you referenced, part # 65063, does indeed protrude through the bumper. Based on your email stating the use of a winch, and ground clearance concerns, my recommendation would be this hitch. I spoke with my source at Draw-Tite and found that when installed, the end of the receiver protruding through the bumper is 6-3/4 inches from the face of the mounting plate. I have included an illustration showing this information. As per the included installation instructions, the factory installed tow hooks need to be removed, and then reinstalled after the Draw-Tite Hitch has been fitted in place.

The concern you have with the light bar would depend on how the light bar is attached to the tow hooks. With the front hitch installed, it may protrude to the point that it interferes with the light bar. The included illustration would help determine if your light bar would work with the hitch installed. If the light bar attaches to the same mounting bracket the hitch is attached to, and any hardware other than what is included in the hitch hardware kit is used, it would void the warranty on the hitch.

The Curt front Hitch for your Ram Pickup, part # C31015, may be an alternative for you. Since it mounts much lower on the vehicle, concerns with the tow hook mounted light bar would most likely not be a concern (since we don't know for sure what the light bar looks like). As per the attached installation instructions show, this hitch does require you notch the bumper so that you have clearance for the receiver. Once again, with your statement that the hitch may be used for a winch, ground clearance could be a concern. If hardware is used that is not included with the hitch hardware kit, it could void the warranty on the hitch. I have linked you to the installation video for this hitch.

As far as addressing which hitch is easier to install, I would suggest the Draw-Tite hitch, due to the fact that you are removing the tow hooks, mounting the hitch and reinstalling the tow hooks. No trimming is required on your truck.

With the Curt hitch, as the instructions state, the nuts which secure the bumper have to be removed, and trimming is required. You will need to notch the fascia on the underside of the bumper to accommodate the receiver.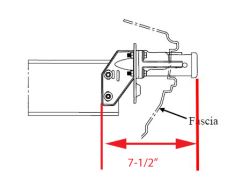 Click to Enlarge
helpful expert reply by:
Jeffrey L