Diagnosing, Locating and Repairing Trailer Ground Problem
Question:
tail lights on trailer work fine until I turn on my running lights then they go out
asked by: phil
My suspicion is that you have a poor ground connection somewhere on your trailer. The fact that everything works fine until the running lights are turned on is the dead giveaway. When the tail lights are turned on, the trailer lighting is drawing maximum amperage through the system. If there is a ground problem, this is when it will manifest itself.

There are several places to look for a poor ground connection. Lets start with the trailer connector on the vehicle. Trace the white wire coming off of the connector, and make sure it is securely grounded to the vehicle frame or chassis. Check that this connection is securely made to clean metal. Having the ground wire connect to metal that is corroded or covered with excessive undercoating will prevent a proper metal-to-metal connection. Next, move on the the connector on the trailer itself. Follow the ground wire and locate the point where it attaches to the trailer frame, which is usually on the trailer tongue. Make sure this connection is secure and not corroded.

Next, check the individual lamps. Each lamp will pick up its ground connection either through a separate ground wire connected to the trailer frame, or by its mounting bolts being in direct contact with the trailer frame. If a ground wire on each lamp is used, once again make sure its connection is tight and not corroded. If the ground connection is made through the mounting studs, make sure the mounting studs are in direct contact with the trailer frame. If the lamps are mounted to wood or plastic, you might have to run a short jumper wire from the mounting stud to the trailer frame.

A final possibility is the design of the trailer itself. Some utility trailers that feature a tilting bed can have ground problems. The trailer is actually two pieces, the frame being one piece and the bed being the other. Since the lamps are typically attached to the bed, if the bolts that connect the two portions of the trailer together which are used as the pivot point become worn, the two halves of the trailer will not have consistent metal-to-metal contact, thus causing an insufficient ground connection. This problem can fixed by connecting the two portions of the trailer together with a jumper wire.

Locating the problem will involve a process of elimination, but the problem should be found in one of the places I have mentioned.

I have linked you to some troubleshooting videos you might find helpful. To view them, click on the provided links.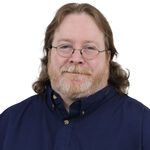 Ask The Experts a Question >>
Product Page this Question was Asked From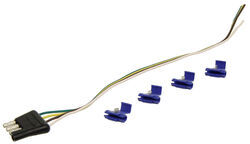 (

27

reviews)
Code: 18004
Retail:$16.98
Our Price: $6.27
Wiring
Trailer Connectors
Trailer End Connector
1 Foot Long
Plug and Lead
4 Flat
Draw-Tite
more information >
Featured Help Information
Miscellaneous Media