Question:
I bought a Q16 from you about 2 months ago. The first time I used it was perfect. This time I noticed some slack in the jaws when I would brake and then accelerate. When I got home I checked and the kingpin can move forward and rearward about a half an inch. Is there an adjustment to remove the slack from the jaws?
asked by: Jeff M
I spoke with my contact at Curt about your Curt Q16 5th Wheel Trailer Hitch, part # C16120, and he said a little play is to be expected in order for the pin to rotate freely. So the jaws should not fit too tightly around the king pin. The jaws are operated by springs. The first time you used your 5th wheel hitch the springs may have been a little stiff. By the second time you used the 5th wheel you likely loosened up the springs and the jaws, resulting in the play you noticed.

Also if you have an older trailer the king pin may have worn down a little. This could cause more play.

There is no adjustment to be made to the springs/jaws to take up the slack, but you may want to use a lube plate like part # 16721, if you are already not doing so.
Product Page this Question was Asked From
Curt A16 5th Wheel Trailer Hitch - Dual Jaw - 16,000 lbs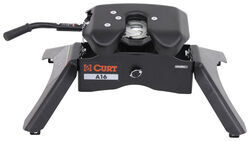 (

204

reviews)
Code: C16120
Retail:$757.72
Our Price: $496.47
Fifth Wheel
Fixed Fifth Wheel
Hitch Only
4000 lbs TW
16000 lbs GTW
Cushioned 360-Degree
Standard - Double Jaw
13 - 17 Inch Tall
Curt
more information >