Electric Trailer Brakes Not Working After Replacing Magnets and Confirming Power to Magnets
Question:
first, i put a new ground wire 10 gauge from trailer coupler to hitch with brass screws. Next i installed new magnets on both wheels and adjusted brakes. I am getting electric to the magnet still the brakes will not apply even on highest setting.
asked by: Larry Z
I suggest you first verify that one of the two wires from the brake assembly is solidly grounded to the trailer frame. (It does not matter which one of the two wires from the magnet connects to the brake controller output wire and which one connects to chassis ground). The ground wire should have a ring terminal and be tightly screwed to a clean, rust- and paint-free surface on the trailer frame. You might try roughing-up the frame surface before attaching the ring terminal.

You indicate that you are getting an electrical signal to the magnet; this should be the braking signal output from the controller carried by the blue wire to the vehicle 7-way and then on to the trailer brake assemblies.
Please refer to the included photo showing a trailer wiring diagram.

If you have confirmed both a brake controller output signal reaching the electric brakes, and a solid ground connection to the trailer frame, then you should inspect the brake assemblies for mechanical issues, such as broken springs or corrosion that could inhibit normal operation of the pads.

Since you have replaced the magnets they are not likely to be the problem, but if you want to test them I have linked a troubleshooting article to help you with this process. You will need a 12V battery and a digital multimeter, such as # BTMT15. A correctly functioning 10-inch electric brake magnet should draw between 3.2 and 4.0 amps at 12-13 volts. Current draw above or below this indicates the magnet should be replaced.

You might also try connecting a 12V car battery directly to the brake circuit to see if it will operate in this manner. If so, this indicates a problem in the trailer wiring between the 7-way and the brakes.
Click to Enlarge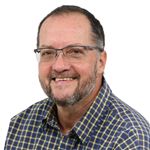 Ask The Experts a Question >>