Can Smaller Wheels and Tires be Installed on a Jet Ski Trailer to Lower It
Question:
im looking to replace the wheels and tires on a double jet ski trailer to lower it. The trailer is 21/2 off the ground, when launching the skis the trailer is to high and makes it hard to launch the skis. we have to summerge the trailer far to float the skis. the trailer currently has on it 175 / 80 / 13 trailer tires on it. i would like to put on 8 or 10 wheels and tires. My questions is can those tires handle the load and is the back spacing the same as the current wheels so there are no clearence issues with the trailer frame. thanks
asked by: Kent
The backspacing is not really the issue, it is the tire width on your current versus new tires. Most trailer tires have a zero offset meaning the mounting surface of the wheel is in the center of the wheel so the tire width becomes important.

A 175/80-13 tire that you currently have is about 6.9 inches wide and 24.1 inches tall. A 205/65-10 like # AM3H390, is 8.3 inches wide and 20.5 inches tall. Regarding tires, this is a huge difference in width and you would have to measure the distance from the back of the tire to the nearest part of the trailer. If that distance is more than 1-1/2 inches, the smaller tire will fit.

If you wanted to go to a smaller tire and wheel with a 5 on 4-1/2 bolt pattern, the best bet would be a 165/65-8 like # AM3H220. It has a section width of 6.6 inches. However, the capacity is 800 pounds at 70 psi, so a single axle with 2 tires total would have a capacity of 1,600 pounds maximum.

Another option is to go with Kenda 5.70-8 Bias Trailer Tire and 8 inch Wheel, # AM30155. The wheel has a 5 on 4-1/2 bolt pattern and is rated for 1,075 pounds at 100 psi. It has a width of 5.8 inches and it is 18 inches tall.

A simpler solution may be a longer ball mount like # 80232. This ball mount measures 16 inches from the center of the hitch pin hole to the center of the ball hole and it fits a 2 inch receiver. You will still be backing the trailer far into the water but the vehicle will not have to go back as far.

I have included a link to our series of FAQ articles on tires and wheels, and a link to a video review of the ball mount for you.
expert reply by:
Michael H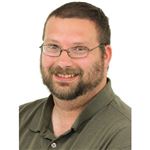 Ask The Experts a Question >>
Product Page this Question was Asked From
Kenda 205/65-10 Bias Trailer Tire with 10" White Wheel - 5 on 4-1/2 - Load Range C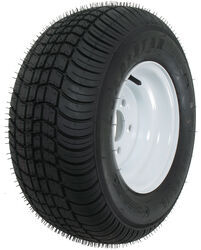 (

3678

reviews)
Code: AM3H390
Retail:$129.95
Our Price: $58.15
Tires and Wheels
Tire with Wheel
Bias Ply Tire
Load Range C
205/65-10
10 Inch
Standard Rust Resistance
5 on 4-1/2 Inch
Steel Wheels - Powder Coat
Kenda
more information >
Featured Help Information
Miscellaneous Media