Recessed E-Track Installation on Walls of an Enclosed Cargo Trailer
Question:
Interested in purchasing E-Track for trailer wall installation. Most are attached outside to plywood. Is it ok to mount to trailer frame every 1-1.5 and place plywood over to recess track? Will this stress the frame to much?
asked by: Edward
Expert Reply:
Installing the E-Track system to your enclosed trailers upright frame is a good idea for the strongest mounting location and cutting the plywood out to fit around the E-Track would not be an issue that I can see as long as the plywood sides have enough mounting locations left to secure it safely in the trailer and the Accessories for the E-Track can be installed in the track.

As far as how much the stress the trailer frame can handle, you would need to contact your trailer manufacturer to see what kind of capacity the wall framing will handle.

I had a similar question from another customer and here is the suggestion I made to him. This mounting option is not recessed but would work good if you have the time to spend making the mounting plates.

If you take the time to make reinforcement plates in advance you can install the reinforcement plate with anchor bolts protruding from the plywood into the interior of the trailer. I would use 3/16 plate for the reinforcement. This way you can just slide the E-Track over the bolts and bolt down the E-Track. I would build the reinforcement with bolts in position to mount in every third hole of the E-Track. This should supply plenty of strength for tying down cargo along the walls of your trailer. With this installation you can use longer bolts and then use a cut off tool like a Dremel to shorten the bolts if needed, and you would not have to worry about the length of screws and piercing the side of the trailer.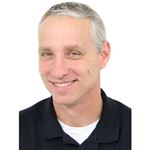 Ask The Experts a Question >>
Product Page this Question was Asked From
Erickson Horizontal E-Track - Zinc Coated Steel - 2,000 lbs - 5' Long - Qty 1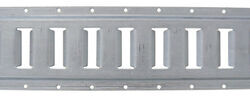 (

285

reviews)
Code: E19148
Our Price: $28.00
Tie Down Anchors
Trailer Tie-Down Anchors
Track Systems and Anchors
E-Track Parts
5 Inch Wide
2000 lbs
E-Track Track
5 Feet Long
Erickson
more information >