5th Wheel Hitch for 2014 Dodge Ram 2500 with RamBox and 6-Foot Bed
Question:
I just purchased a Ram 2500 6foot 4inch bed, with the built in Ram Boxes, is there a 5th wheel hitch that will work on this truck?
asked by: David
A short bed truck by itself can pose a challenge for 5th wheel towing due to the limited front-to-back clearance between the truck cab and the trailer's overhang. When we add the Rambox feature we also add another complication: reduced side-to-side clearance.

Hitch makers like Reese, Curt and B&W discourage use of 5th wheels in such trucks; that said, there are those that have satisfactorily installed 5th wheels anyway.

The best solution for the turning clearance problem in such trucks is to install a Sidewinder replacement pin box on your 5th wheel and a fixed hitch in your truck. Sidewinders move the pivot point back from the 5th wheel hitch by 22-inches, providing increased turning clearance. Sidewinder pin boxes are bolt-on replacements that are determined based on your trailer's existing pin box number. The article linked at right gives you the basics of Sidewinders and also includes a table of popular OEM models and the compatible Sidewinder replacements, which include both standard and Air-Ride cushioned types.

For example, if your 5th wheel pin box is the popular Lippert 1621 or 1621HD we offer the Reese 16K Sidewinder # RP61420 and the Reese 5th Airborne Premium 5th Wheel Air Ride # RP61422.

As a guide for safe turning clearances please refer to the linked diagram that shows the recommended minimum vertical and horizontal clearances between truck and trailer.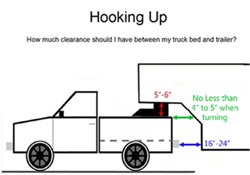 Click to Enlarge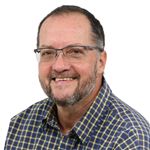 Ask The Experts a Question >>