Need a Winch for Loading and Unloading a Car Into an Enclosed Car Hauler Trailer
Question:
I am interested in a winch for my enclosed car hauling trailer. This is all new to me so Ill explain first - I am loading a car that is very hard to open the door once I am loaded, this is why Im looking for a winch. To instal a winch, does it bolt into the floor and through or? Also, Id like to have something with a remote control where it can be stopped while guiding the car into the trailer where needed. Also, for unloading, there is the same problem of getting into the vehicle, I imagine it might not be too hard to push back on the vehicle to get it down the ramp, but dont want it to take off down the ramp - does the winching system allow for a steady release to keep the unloading vehicle going down slowly. Thank you
asked by: Bryce K
Expert Reply:
The Superwinch S4000 Trailer Winch, part # SW104159, that you selected is a great choice for the application that you need a winch for. This winch is designed primarily for race car trailers, open and enclosed and will control the cable feed in and out so you could stop the vehicle at any point when loading and would not have to worry about a runaway vehicle when unloading.

For installing the winch in the trailer it is hard to make a recommendation without seeing the trailer and framing under the trailer. You can mount the winch in any location that makes sense for your trailer. I have seen winches mounted underneath of cabinets in trailers that have cabinets mounted in the front end, this keeps the winch out of the way when working in the trailer. Other options would be to mount the winch on the tongue of the trailer inside a tongue box, see link. Just make sure that, wherever you mount the winch, it can be tied into the trailer framing directly or you can have brackets welded in to support the winch for your pulling application.

You will also need to run heavy gauge wire from the vehicle battery or mount a battery on the trailer to power the winch. I added a link to wiring if you choose to run wire from the vehicle battery. It is recommended that the battery be mounted outside the enclosed portion of the trailer to prevent fumes from becoming a problem when people are in the trailer if you go with that route.

If you need to mount the winch in a position that is not in the center of the trailer, you might need a pulley block, # SW2229A, and an additional point to connect the winch to, like part # RR5K. This will allow you to make a straight pull on the vehicle to easily winch it into the trailer.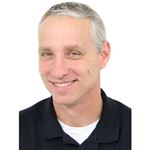 Ask The Experts a Question >>
Product Page this Question was Asked From
Superwinch S4000 Trailer Winch - Wire Rope - Roller Fairlead - 4,000 lbs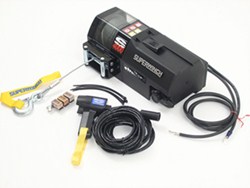 Code: SW104159
Retail:$685.00
Our Price: $519.95
Electric Winch
Car Trailer Winch
Load Holding Brake
2.0 HP
3400 - 4000 lbs
Medium Line Speed
Plug-In Remote
Wire Rope
Superwinch
more information >
Featured Help Information
Instructions
Miscellaneous Media