Bypassing Factory Transmission Cooler on a 2006 Nissan Pathfinder
Question:
I am looking at installing a transmission cooler to completely bypass the factory tarnsmission cooler that is built in to the radiator as a preventative measure. The 2005 - 2006 Nissan Pathfinders have had issues with the radiator leaking and the radiator coolant being mixed with the transimission oil and destroying the transmission. Is this advisible, would I need to install a sperate thermostat and what size would I need since I am compeletly bypassing the factory cooler. Thank you
asked by: Jason R
Expert Reply:
It is possible to install a transmission cooler and bypass the factory transmission cooler on your 2006 Nissan Pathfinder. This is not recommended by manufacturers, but it is possible. You will want to get the largest transmission cooler that will fit your vehicle. I do not know the area that you have available to install a transmission cooler, but if it will fit, I would recommend the Derale Series 8000 Plate-Fin Transmission Cooler Kit, part # D13504. The overall dimensions for this cooler are 11 inches wide, 12 inches tall and 7/8 inch deep. Measure the height, width and depth of the area where you want to mount the transmission cooler and those dimensions will help you select the appropriate size cooler.

The best place to mount the transmission cooler is between the AC condenser and the grill. You will first want to cut off the transmission lines going to and from the radiator. It is very important that you plug the lines you cut coming from the radiator because you do not want the radiator coolant leaking out. You can then attach the a rubber hose to each transmission line and run those to the inlets on the new transmission cooler.

I have attached two images showing how the hoses and lines attach to bypass the radiator and the preferred mounting location for the transmission cooler. You will not need a separate thermostat because the temperature of the transmission fluid does not need to be regulated.
Click to Enlarge
Click to Enlarge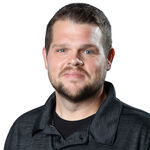 Ask The Experts a Question >>
Product Page this Question was Asked From
Derale Series 8000 Plate-Fin Transmission Cooler Kit w/Barb Inlets - Class IV - Efficient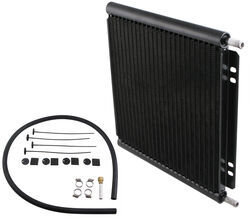 (

346

reviews)
Code: D13504
Retail:$119.44
Our Price: $65.47
Transmission Coolers
Plate-Fin Cooler
Class IV
Standard Mount
11W x 12T x 7/8D Inch
With 11/32 Inch Hose Barb Inlets
Derale
more information >
Questions and Comments about this Question
Aloha! I am looking to do the same for my 2008 Nissan Pathfinder bypassing factory trans cooler and installing a seperate cooler for the trans. Would you recomend the same?Ken I
comment by: Ken I - 11/27/2012
The D13504 would provide plenty of cooling ability for your Pathfinder, you should measure in front of your radiator to make sure there is enough room to fit this cooler. Again bypassing the factory cooler is not necessarily the recommended method, but it can work. If you install the new cooler in-line with the old, just make sure the path of fluid is transmission, factory cooler, new cooler and back to transmission. I have added links to a couple of videos you may find helpful.
Patrick B - 11/28/2012
Thank you for this information you give to. i have question, i see picture of preferred mount location but need to ask you, what about if i install this extra radiator in C location? this tube inside of radiator is doing cooling and heating effect as well in winter and it heats transmission fluid in cold starts and i think if i will place radiator after main engine radiator that will help to warm up transmission fluid with airflow from driving and even from contact with each other and same time transmission fluid goes much hot then coolant in radiator, in my opinion air flow even in very hot summer from radiator will be no more then 90 Celsius and even 100 Celsius is good working operation temperature for transmission fluid. What do you think?
comment by: Simon - 12/17/2012
You can mount a transmission cooler in location C on that diagram and it will help with warming the fluid in the colder winter months. It will still help cool fluid in the warmer temperature weather or when pulling a heavy load, but it will not be as efficient at cooling the fluid as it would be if it was mounted in location. If you are pulling light loads or doing some mild off-road driving, it probably would not be a problem. If you are pulling loads close to the maximum ability of the vehicle or are doing aggressive off-road driving where the transmission is working hard, then it would really be best to get as much cold air flowing over the cooler as possible. On the inside of the radiator, closer to the engine, is a lot of heat built up in the engine compartment.
Patrick B - 12/18/2012
Featured Help Information
Instructions
Miscellaneous Media