Correct Wedge for 16K Pro Series Fifth Wheels with Sidewinder
Select your vehicle to confirm the Fifth Wheel fit
Technical Bulletin
SUBJECT / Summary: SWW-02 and the universal wedge will not work with the 16K Pro Series fifth wheels (30090, 30098, 30096, 90089, 30091). Use wedge number 30850 instead.
PROBLEM: The 16K Pro Series 5th wheel will not work with the SWW-02 or the Universal Wedge. They both interfere with the slide bar. DO NOT USE.
SOLUTION: The 30850 will fit all Pro Series 5th Wheels and will replace the SWW-02. You will need a 3/8" hex head bit to install the 30850 Pro Series Wedge.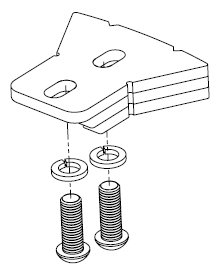 Product Number: 30850
Bulletin Date:03/18/2010
Bulletin Number:10-0200