Maximum Gross Trailer Weight and Tongue Weight Rating of the Draw-Tite Trailer Hitch Part # 75751
Hello, I wanted to confirm the max Tongue weight of the Draw-Tite 75751 trailer hitch. Tongue weight stated is 675lbs for both weight carrying and weight distributions. I have checked other MFGs and they list 350 / 500 respectively. I ask this because i was looking at motorcycle carriers but i would need a weight carrying tongue capacity of ~550lbs for both motorcycle and carrier so this would not work with the 350lbs listed by other mfgs but would work with the 675lbs listed by the draw-tite. Could you please confirm this is not a miss-print?
asked by: Trevor
The Draw-Tite Max-Frame Trailer Hitch Receiver part # 75751 is Class III hitch with a 2" receiver tube opening. It has a maximum gross trailer weight (GTW) rating of 4,500 lbs and maximum tongue weight (TW) rating of 675 lbs. While using a weight distribution system with this hitch, your GTW increase from 4,500 lbs to 5,250 lbs but the tongue weight capacity remains the same.

The above figures are accurate and taken directly from Draw-Tite. However, although the hitch is rated at 4,500 lbs GTW and 675 TW, the vehcile is likely not. Almost all of our trailer hitch receivers are rated well beyond the capabilities of the vehcile. Both the vehcile and hitch will have ratings for max GTW/TW however, the lower of the two ratings will be your limiting factor.

I have attached an installation video of this hitch installed on a 2012 Ford Escape for you in addition to a photo of one of our customers hauling his motorcycle on the back of a 2006 Ford Escape.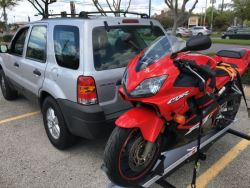 click to enlarge
expert reply by:
Conner L
Ask The Experts a Question >>