Wiring for Electric Winch at the Front and Rear of a 2015 Chevy Silverado 3500 Duramax
Question:
Can you possibly provide me with a wiring diagram for installing front and rear connects for a 12000 lb winch? If you could include a battery seperator and power switch it would be appreciated. Do I have to alter anything OEM on the vehicle when all of this is installed? Thank you
asked by: Kevin H
First, you are going to need a couple sets of quick disconnects such as # SW2236. You will need enough 2 to 4 gauge wire to reach from the front of the truck to the batteries and from the rear of the truck to the batteries. Another option is to get a couple of winch wiring kits, # SW2008.

The winch power and ground wires will attach to one disconnect and the wiring to the batteries will attach to the mating quick disconnect.

Diesel trucks normally have 2 batteries so the isolator such as # DW08771 would go between the batteries and would wire to a 12 volt ignition source (a circuit that only has power when the vehicle is on). This acts as a switch allowing the winch to run off of the auxiliary battery only when the vehicle is off so you can avoid draining the main battery.

A switch would not be needed in this wiring set up because the way I have it laid out in the picture the quick disconnects at the front and rear will have power at the same time. The set that isn't plugged into the winch would have to be covered. You would not use both at the same time, front and rear, because it will be too much power draw on the system.

You should not have to alter anything on the vehicle to perform this installation.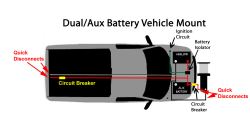 Click to Enlarge
expert reply by:
Michael H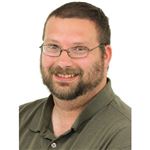 Ask The Experts a Question >>