Will Hitch Mounted Mud Flaps Interfere with Parking Sensors on a 2015 Ford F-250
Considering a set of hitch mounted towing mud flaps for my F250. How are the Enkay vs the Agricover with respect to interference with the bumper mounted reversing sensors? Do both interfere or does one make interfere less? Non of the reviews or FAQ seem to address this question and I know from a friend that the Enkay ones interfere with the sensors on his F250.
asked by: Terence
The Rock Tamers Heavy-Duty Adjustable Mud Flap System part # ERT00110 will not interfere with the rear parking sensors that are in the bumper of your 2015 Ford F-250. We have not tested this ourselves but have had customer reviews stating they would work. I have attached a few photos for reference as well as an installation video.
expert reply by:
Conner L
click to enlarge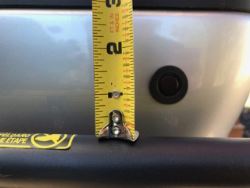 click to enlarge
click to enlarge
Ask The Experts a Question >>