Replacement Circuit Board and Rain Sensor for MaxxFan Plus
Maxxfan 4951ksc fan stopped working, switch doesnt do anything. Is the circuit board bad or switch? Tried a phone line, it would only open the vent and not close it. It would not turn on fan. It is under warranty but trying to get it fixed through dealer is a joke.
asked by: Craig
The MaxxFan Plus Roof Vent w/ 12V Fan, Thermostat, and Remote - Powered Lift - 10 Speed - Smoke # MA00-04500K is the similar fan to the 4951ksc. The issue you are having with the fan and lid are likely the circuit board which can be replaced with # MA10A21275K. However, the issue could be as simple as replacing the rain sensor. The Replacement Rain Sensor for MaxxAir RV or Trailer Roof Vent Fans # MA34FR is what you need for that and the rain sensor going bad causes the lid to close and the fan to not work. I personally would give replacing that rain sensor a shot first and then assess if the circuit board needs replaced from there.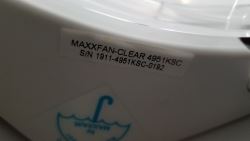 click to enlarge
Ask The Experts a Question >>