Why Does Cruise Control Not Work When Brake Controller is Installed on 2003 Chevrolet Silverado
Question:
with the brake controller installed the cruise does not work when i un plug the controller it works
asked by: Jeff
Expert Reply:
It sounds as if you have the red wire from the Tekonsha Prodigy P2 Brake Controller, part # 90885, attached to the cruise control wire that is connected to the brake pedal switch. This wire will need to be moved to a different wire on the brake pedal switch.

The red wire on the brake controller is the only wire that is tied into the braking system so this is the only wire that could affect the cruise control.

On your 2003 Chevrolet Silverado you should be using the Tekonsha Plug-In Wiring Adapter, part # 3015-P, to connect the Prodigy P2 brake controller to the factory brake controller port in your vehicle. This adapter will plug into the back of the brake controller and the other end will plug into the factory port located in the junction box beneath your vehicles dash.

If you are using the Tekonsha adapter and having this problem you will want to make sure that the connector on the adapter has the pins in the correct locations. They also have a # 3025-P adapter that is for the earlier 1999 to 2002 GM vehicles that has the red wire in a different location. This could be causing a problem with your cruise control.

If you have the # 3025-P adapter you can just move the red wire to the correct location and you will have changed the # 3025-P adapter to the correct #3015-P adapter. I am including a picture that will show the location of where you will want to move the red wire to on the connector.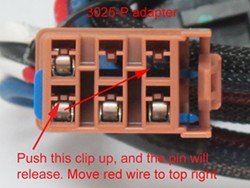 Click to Enlarge
Ask The Experts a Question >>