Running Light Fuse Keeps Blowing Even with Trailer Running Lights Disconnected
Question:
Have a 2009 travel trailer with combination LED turn and brake lights and conventional marker lights. The turn and brake lights work but none of the marker lights work and when activated always blow the marker light fuse on my truck. Took out all the marker bulbs and checked the circuits and they are all good at the bulbs. Even with all the bulbs out turning the marker lights on still blows the fuse. Not sure what step to take next. Any help would be greatly appreciated.
asked by: Luke
You have a short circuit somewhere that is causing the fuse to blow. To determine where the short is start by disconnecting the trailer from the tow vehicle.

Replace the fuse and then use a circuit tester such as # ALL640595 to test the vehicle side trailer connector while someone sits in the vehicle and turns on the running lights. If it shows power and the fuse does not blow then the issue is on the trailer. If it does blow the fuse then the issue is on the vehicle.

Likely causes of a short on a vehicle include a dirty or corroded trailer connector or damaged wiring. Make sure the trailer connector is clean (go ahead and do the same for the trailer side connector while you're at it). Then trace the wiring as best you can on the vehicle and look for pinched wires or exposed copper strands touching metal. Fix as needed.

On the trailer side, in addition to cleaning out the trailer connector, make sure the wiring is intact and not pinched or frayed. The main trailer connector ground and the light grounds should all be attached to clean and corrosion free bare metal surfaces.

I have included a couple of links that should also help you.
expert reply by:
Michael H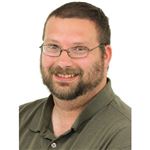 Ask The Experts a Question >>
Product Page this Question was Asked From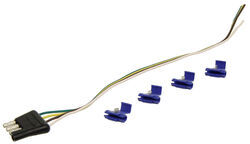 (

27

reviews)
Code: 18004
Retail:$16.98
Our Price: $6.27
Wiring
Trailer Connectors
Trailer End Connector
1 Foot Long
Plug and Lead
4 Flat
Draw-Tite
more information >
Featured Help Information
Miscellaneous Media