What is the Overall Height of an ST235/85R16 Trailer Tire Load Range E and F
Question:
I will need 4 new tires for my 5th wheel. Current tires are goodyear LT235-85 - R16 load range E. If I change over to your tires are both thte load range E and F 31.7 inches high? I think mine are 30.8 inches high. Is the E range not a high as the F rated tire? My 5th wheel is about 13,000 gvw. thanks for the help.
asked by: Gary Z
Expert Reply:
First, the LT that is in front of your existing tires indicates you are using light truck tires. These tires are not designed for trailer use. ST or special trailer in front of the size indicates a trailer tire. Trailer tires are designed with a thicker side wall to handle more vertical load than passenger vehicle tires.

In the 235/85-16 tire size, we only have the load range E tire # AM10295, and load range F, # AM10501. The load range F tire is going to have the higher capacity of 3,960 pounds at 95 psi. Four of these tires would have an overall capacity of 15,800 pounds.

You could still use the load range E tires because the capacity is 3,640 pounds at 95 psi. Four of these tires would have an overall capacity of 14,500 pounds. For either load range tire, you are still limited to the 13K capacity of the trailer even with tires that can hold more weight.

Both load ranges will be 9-1/4 inches wide and about 31-3/4 inches tall. With some weight on them they will lose a little height. I have included a link to our tire FAQ article for you.
expert reply by:
Michael H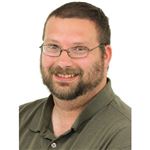 Ask The Experts a Question >>