Recommended Replacement Regulator for Dual Propane Tanks
Can you tell me if the Camco 2 stage propane regulator will replace a Cavagna Group 2 stage regulator model #924n ? And also if I could use the mounting bracket from the Cavagna regulator to mount the Camco regulator ?
asked by: Bob
The Camco Automatic Changeover 2-Stage Propane Regulator for Dual Propane Tanks # CAM59005 can certainly replace your Cavagna regulator. The Camco will connect the 2 propane tanks on your RV in order to maintain a constant gas pressure. It will automatically switch to the full tank when the other is empty.

I cannot confirm if your existing mounting bracket will work to mount the Camco Regulator. However, you should be able to take some measurements to ensure it will fit. I have attached an image that shows the dimensions of the mounting space on the Camco to see if your bracket will work. The mounting holes are spaced 3 inches apart on center left to right and 7/8 inches front to back.

I have attached a video demonstration of this regulator for you to check out.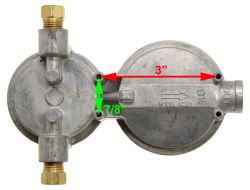 click to enlarge
expert reply by:
Chris R
Ask The Experts a Question >>