Ramp Spring Weight Capacity and Left or Right Hand Orientation for a Horse Trailer
Question:
I need to repair the ramp on my horse trailer. It has 4 six inch springs which are broken and need to be replaced. How do I know if I need left or right hand torsion springs? It looks as if there is a rod, or pin that runs the width of the ramp and goes through the springs and the hinge sections. How do I know what weight of spring to purchase?
asked by: Julie O
Expert Reply:
The right hand ramp spring, item # RS16933RH, and the left hand spring, item # RS16933LH, are differentiated by paint on the springs from the manufacturer. The springs with green paint on them are right side springs, left side springs are unpainted. Right side springs will go on the right side of a ramp and left hand springs go on the left side of a ramp. Both right and left hand springs deflect in the same direction the designation of right and left has to do with orientation of the stick ends of the springs, so they can be installed on a supported area of the trailer ramp.

The weight capacity of the springs is expressed as torque and not as actual ramp weight. These springs are designed to help lift the ramp with 2,000 pounds of torque. These are the only ramp springs we can get from our supplier at this time and are the springs most often used in heavy equipment trailer manufacturing. The length and weight of the ramp determines how much the springs will assist in raising and lowering the ramp. These particular springs are not typically used in horse trailer or enclosed trailer applications.

I have linked a picture showing the dimensions of the ramp spring that you may find as a good reference.
Click to Enlarge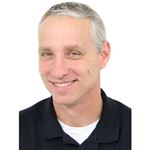 Ask The Experts a Question >>
Product Page this Question was Asked From
1/2" Diameter Greasable Hinge Pin, 4-1/2" Long

Code: HP412G
Retail:$10.07
Our Price: $8.27
Enclosed Trailer Parts
Doors
Door Hardware
1/2 Inch Diameter
Hinge
4-1/2 Inch Long
Hinge Pin
Redline
more information >