Bestop Jeep Seats - B3944115
Fold & Tumble seats transform your rear cargo area, providing extra seating for passengers or stowing in seconds for additional storage space. Seats feature dual headrests for comfort and a zippered pocket on the back to keep small items handy.
Features:
Replacement for factory rear bench
Tumble-forward option for extra cargo space
Dual headrests
Zippered pocket on back of seat
Seat bottom covered in weatherproof carpet
Premium fabric
Sturdy, corrosion-resistant frame
Variable rate of resistance springs respond to added pressure with added support
Waterproof, closed-cell, high-density foam provides comfort, maintains seat shape
Specs:
Fits all Jeep CJ and Wrangler models 1955-1995
Bolt-on installation

Attaches with floor mounts, wheel-well lock-down brackets

1-Year limited warranty
For more versatility over traditional bench seats, the Bestop TrailMax II Fold & Tumble Rear Bench provides not only seating for passengers, but the capability of stowing away to increase storage space.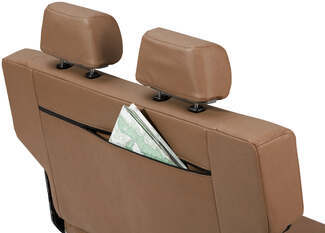 The Fold & Tumble bench works like a traditional bench seat when deployed, featuring dual headrests for comfort and a zippered pocket on the rear of the seat to keep small items such as maps close at hand.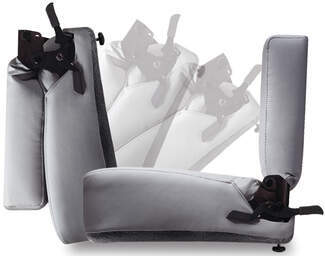 When stowed, the seat folds forward, opening up a larger cargo storage area without the hassle of removing the entire bench. Seat bottoms are coated with weatherproof carpet for a smooth look when stowed, and the seat can be unfolded in seconds.
Atlas Frame - Seat frame is electrostatically painted to resist corrosion and hand welded for added strength, ensuring that your seat maintains its shape.
Variable Rate of Resistance Springs - Seat springs respond to increasing pressure with increasing support, making trips down the road - and the trail - a smooth experience.
Ultimate Foam - The closed-cell, high-density seat foam provides a firm, comfortable ride. The foam is designed to maintain the original shape of the seat for years and treated with waterproof "skin" to prevent waterlogging.
Seat Cover - TrailMax II seat coverings are constructed from premium vinyl fabric that maintains its shape in any temperature. The fabric is designed to resist damage from the elements - mildew and UV rays - and regular wear and tear, such as abrasions.
The TrailMax II Fold & Tumble Rear Bench attaches easily to the vehicle with floor mounts and wheel-well lock-down brackets. A striker plate attached beneath the vehicle's seat belt mounting bracket locks the bench in place, and a latch releases the bench in seconds to stow.
This seat comes in factory-match, complementary Black Denim and Slate colors.
39441-15 Bestop TrailMax II Fold & Tumble Fabric Seat - Black Denim
Installation Details

This Product Fits The Following Vehicles
1955 - 1983 Jeep CJ-5
1955 - 1975 Jeep CJ-6
1976 - 1986 Jeep CJ-7
1987 - 1995 Jeep Wrangler
1987 - 1995 Jeep YJ