Selecting the Right CTEK Battery Charger
Sophisticated and electronically controlled, CTEK battery chargers provide superior battery-charging performance. However, because CTEK offers several models, each with many specifications, choosing the right charger can be confusing. Our reference table, below, compares features across models to help you select the charger that is best suited to your needs.
The following information also explains the functions of the different batteries and how CTEK chargers can help you get the most out of yours.
CTEK Battery Chargers
Model
MULTI US 7002
MULTI US 4.3
MULTI US 3300
MULTI URS 7.0
MULTI US 25000
MULTI US 0.8
MULTI UC 800
Output Voltage
12
12
12
12 and 16
12
12
6
Maximum Output
(Amps)
7
4.3
0.8 and 3.3
7 and 5
25
0.8
0.8
Power Source
110V AC
110V AC
110V AC
110V AC
110V AC
110V AC
110V AC
Battery Sizes
(Amp Hours)
14 - 225
1.2 - 160
1.2 - 120
12V mode: 14 - 225
16V mode: 10 - 160
50 - 500
1.2 - 100
1.2 - 100
Appli-
cations
Automotive Batteries
X
X
X
X
X
Small Batteries
X
X
X
X
Motorsports
X
Vintage
X
Fast Charge
X
Charge
Process
Steps
Desulfation
X
X
X
X
X
X
X
Soft Start
X
X
X
X
Bulk Charge
X
X
X
X
X
X
X
Absorption
X
X
X
X
X
X
X
Analysis
X
X
X
X
X
Recondition
X
X
X
Float
X
X
X
X
X
Pulse Maintenance
X
X
X
X
X
X
X
Cold Temperature
Mode
X
X
X
Supply
Mode
X
X
Automotive batteries - found in cars, trucks, tractors, boats and campers. Includes starter and deep-cycle batteries.
Small batteries - found in lawn-maintenance equipment, motorcycles, personal watercraft and snowmobiles
Motorsports - 16V batteries that typically are used for racing
Vintage - older cars, trucks, tractors and motorcycles that use 6V batteries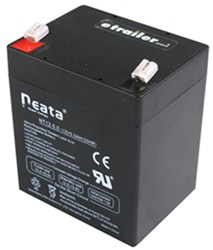 12V Lead-Acid Batteries
Battery Uses
Almost every gas- or diesel-powered machine uses a lead-acid battery for starting the engine. These include:
Recreational vehicles
Farm equipment
Yard maintenance machines
Boats
Motorcycles
Cars and trucks
Starter batteries supply a high output for a short time - the few seconds needed to start an engine.
Batteries can be used as a power source to run electrical devices. These include:
Trolling motors
Navigation equipment
Trucks lifts
Appliances such as refrigerators in camping trailers
Batteries used as a power source are designed to supply a lower output for a sustained period of time. Known as deep-cycle batteries, they typically charge and discharge at a slower rate than starter batteries.
What Happens Inside a Lead-Acid Battery
A lead-acid battery consists of lead plates suspended in a solution of acid and water. When the battery delivers power for some use, a chemical process occurs between the acid solution and the lead plates. This process deposits a material called "sulfate" on the lead plates. When the battery is charged, the sulfate is dissolved back into the acid solution.
The sulfate that collects on the lead plates of a battery can shorten its life. If the sulfate stays on the lead plates it may crystallize. This process is called "sulfation." Once crystallized, the sulfate won't easily go back into solution. The crystallized sulfate then interferes with the normal functioning of the battery, preventing it from charging fully.
Getting the Most Out of a Lead-Acid Battery
A lead-acid battery will last longest and perform best if it is kept fully charged. If not kept fully charged, a battery is subject to problems such as the following:
Sulfation, which prevents full recharge of the battery. When this occurs, the battery won't perform well and its life will be shortened. Even a fully charged battery that sits for a long time (as little as 2 weeks) will lose some of its charge, allowing sulfation to occur.
Stratification. When a battery is highly discharged, the acid inside can stratify (meaning that the acid separates from the water). If the acid does stratify, part of the battery will stay undercharged, which can lead to sulfation, whereas part of the battery might become overcharged, which can allow corrosion to form.
When Battery Problems Are Most Likely to Develop
Vehicles that are used only periodically or seasonally (like motorcycles, snowmobiles, boats, yard equipment and farm vehicles) are especially prone to battery problems because their batteries are often left for a long time without being charged.
When prepping a vehicle for longer term storage, such as during a military deployment, be sure to keep the battery charged. For longer periods of storage, it's a good idea for someone to occasionally check on the charger and battery.
Battery Chargers
Standard Battery Charger
To recharge a battery, an old-style battery charger or trickle charger simply supplies a set electrical current. The charger runs until you turn it off, leaving you to guess whether the battery is fully charged. And if you don't guess correctly, you run the risk of overcharging or undercharging. Undercharging a battery allows it to sulfate and overcharging it can lead to overheating and consequent damage.
CTEK Battery Chargers
CTEK battery chargers make it easier than ever to keep a 12V lead-acid battery charged and ready for work. The internal electronics in CTEK chargers get the best possible charge out of each individual battery, eliminating guesswork. Each CTEK charger features:
A multi-step charging cycle that is based specifically on 12V lead-acid battery characteristics
Ability to analyze an individual battery and vary the steps of the charge cycle to deliver the best charge for that battery
Simple and safe operation - all you have to do is plug it in. Most CTEK chargers have built-in anti-sparking technology, protection against short circuits, and protection against reverse polarity (connecting the charger cables to the wrong battery terminals).
A maintenance stage that allows you to leave the charger connected to a battery for months while it keeps the battery at peak charge. Maintenance mode begins at the end of the charge cycle. In this mode, the charger periodically checks the voltage on the battery, and if it falls below a certain level, the charger starts the charge cycle from the beginning.
CTEK Advantages
Other features that CTEK battery chargers offer include:
Smoothed input current that eliminates spikes, thereby protecting sensitive vehicle electronics
An easy-to-use Comfort Connect system that includes 2 sets of cables that connect to battery terminals. One set of cables terminates with eyelets that can be permanently connected to your battery. The other set terminates in clamps that can be connected quickly to almost any battery for temporary charging. Both sets of cables include a plug that you can easily connect to the cable on the charger.
If you get extra sets of cables, you can connect each one permanently to a different battery. This lets you easily switch your charger among your batteries. Cables that include a battery health indicator also are available. A battery health indicator lets you know at a glance whether it's time to charge.
Most CTEK chargers are rated as splashproof and dustproof. They are safe to use outdoors and are approved for use on small watercraft.
Multi-Step CTEK Battery Charging Process
A CTEK charger goes through a multi-step cycle. By monitoring the battery's state, it can start and stop each stage at just the right time.
Desulfation - uses pulses of electricity to break up sulfation (sulfate that has crystallized on the lead plates)
Soft start - tests the battery to see if it can accept a charge
Bulk charging - applies a strong charge to the battery to get it close to full charge
Absorption - uses a lighter charge to fully charge the battery while avoiding the risk of overheating
Analysis - makes sure that the battery can hold a charge
Recondition - reduces the effect of stratification that could be caused by a deeply discharged battery. This is usually an optional mode that you can select on chargers that have this capability.
Float/Supply - maintains the battery at 100% capacity for 10 days
Pulse maintenance - keeps an unused battery in top shape for an extended period of time. It monitors the battery's condition and, when needed, gives the battery a pulse of current to maintain the charge.
Accessories for CTEK Battery Chargers
If you wish, you can get extra connect cables with either eyelets or clamps to connect to battery terminals. The eyelets are available in several different sizes. Some models of cables come with built-in battery health indicators that make it easy for you to monitor the state of your battery. See the table below to compare available cables.
CTEK Charger Cable Comparisons
Model
CTEK56260
CTEK56261
CTEK56329
CTEK56384
CTEK56382
Battery Connection
6.4mm Eyelets
8.4mm Eyelets
10.5mm Eyelets
Clamps
8.4mm Eyelets
Charger Connection
Comfort Connect plug
Comfort Connect plug
Comfort Connect plug
Comfort Connect plug
Comfort Connect plug
Battery Health Indicator
X
X
Cigarette plug connect cable (CTEK56263) - With this cable, you can charge your battery through your cigarette lighter or power plug (which must be active even when ignition is off). The cable connects to your cigarette lighter or 12-Volt power supply at one end and to the Comfort Connect lead of your charger at the other.
Dash-mounted charger connection and battery health indicator (CTEK56380) - With the in-dash monitor and connector installed permanently in your dash, you can easily stay informed of your battery's condition. And when your battery needs a charge, just connect your CTEK charger through the monitor's panel box right there on your dash. You won't even have to open your hood to charge your battery. The cables on this monitor connect to your battery with 8.4mm eyelets.
Written by: Raymond P.
Last updated: 7/6/18