Roof Racks
Find the right roof rack for your gear. Tell us your vehicle and we'll show you the best options.
Select Your Vehicle
Select Year
Roof Attachments
Roof Rack Brands
Roof Rack Help Articles
How to Choose the Best Rooftop Cargo Carrier
There are a lot of great options for expanding your storage space, including rooftop cargo boxes, cargo baskets, and cargo bags. But which is the best choice for you? Don't worry — we'll help you out and break down the major differences between these handy cargo solutions.
Read More...
How to Use a Roof Rack (Like a Boss)
If you don't have the space inside your car or would rather not clutter your cargo area, a roof rack provides a space-saving alternative for hauling gear. Read on to learn the 3 steps for choosing the right roof rack!
Read More...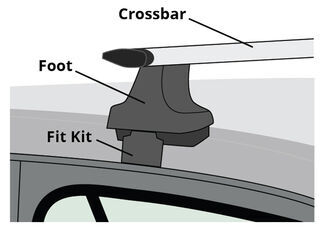 How to Install a Roof Rack (Hint: It Depends on Your Roof)
It can be difficult to know where to start when it comes to installing a roof rack. This is especially true because roof racks will install a little bit differently, depending on which type of rack you buy and what type of roof you have.
Read More...
etrailer.com is the best place to find the correct roof rack for your vehicle.
Whether you're looking for a roof rack, roof box, or roof basket, we are here to help you find the right solution for your adventures. We carry all the top brands like Thule, Yakima, Inno, Rhino Rack and more. With our thousands of roof rack reviews and our expert product descriptions and videos, we are confident in finding the correct roof rack for your vehicle.
Shop Now with the Roof Rack Experts and Get Everything You Need to Carry Your Cargo in Style at etrailer.com.