Recommendation for the Largest Yakima Skybox Roof Top Cargo Box Available for a 2010 Toyota Rav4
Question:
I have a 2010 Rav4 sport with factory rails and crossbars. It does not have a hatchback, so there is no concern with that. My concern is how far will the Skybox 18/21 hang over the front or the back. I realize I can adjust the crossbars, but Im worried it will hang over too much in the both the front and the back. I also realize I would have to remove the radio antenna, but Im not worried about that. I havent been able to find any good pictures of this setup online. I can go with the Skybox 16 to be a little safer, but I want to get the biggest box I can reasonably fit.
asked by: Brian
Yakima confirms that the Skybox 21 # Y07337 is a good fit for your 2010 Toyota Rav4 and it is the largest cargo box they carry at this time.

The Skybox 21 is 92 inches long, so, the main determinant in this operation is how long your roof actually is on your vehicle, if it is more than 92 inches, you will not have any overhang and vice-versa. With a little bit of manipulation of trial and error, I am sure you will be able to adjust your Skybox 21 so there is little if any overhang on your vehicle.

Regarding your overhang concern, the minimum crossbar spread is 24 inches and the maximum is 42 inches. The adjustment area inside the box that you set to fit your crossbars has a 9 inch span. With all this information, the bottom line is if you have the crossbars all the way forward and the inside attachment points all the way forward, you will have a front overhang of 25 inches. If you have your cross bars all the way to the rear as well as the attachment points all the way to the rear of the vehicle, your overhang will be 34 inches. These overhang dimensions are from the center of the crossbar out - not from the edge of the roof.

You will need to check your owners manual for the weight capacity of the roof of your vehicle because the cargo box weighs 62 lbs and weight limit that you can put in the cargo box is 100 lbs.
Click to Enlarge
Ask The Experts a Question >>
Product Page this Question was Asked From
Yakima SkyBox 21 Rooftop Cargo Box - 21 cu ft - Black Carbonite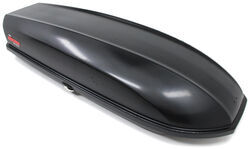 (

15

reviews)
Code: Y07337
Retail:$749.00
Our Price: $678.94
Roof Box
Aero Bars
Factory Bars
Square Bars
Round Bars
Elliptical Bars
Extra Long Length
High Profile
Extra Large Capacity
Dual Side Access
Black
Yakima
more information >