Is Linxup GPS Tracking Device # 300-AT3-S Mounting Location Also a Theft Deterrent
I cant see HOW this is a deterrent or protection being mounted out in the open for easy access as your install photos show it on the frame of a trailer, IF this unit is ENCLOSED in a metal box etc. how would that effect its use?
asked by: Numa
Ideally you mount the Linxup GPS Tracking Device # 300-AT3-S in a not so obvious location. I attached a picture that shows it mounted under the floor of a trailer on the frame. A thief isn't going to think to look for this. And if he did find it he most likely wouldn't know what they were looking at.

If the unit was disabled the last known location would still be available through the service so it wouldn't be a total loss.

I wouldn't recommend putting it in a metal box although it should still work just like your GPS on your phone will still work in your vehicle.
expert reply by:
Jameson C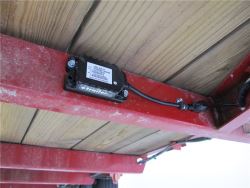 click to enlarge
Ask The Experts a Question >>