Where to Mount the Derale Dual-Pass Heat Sink Transmission Cooler and How Does It Compare
Question:
How does the D13266 compare with traditional High effecency transmission coolers? And if I decide to buy this pecticular cooler instead of the traditional design where would you suggest installing it on a 2004 towncar. I was considering in the front so it is directly in the airflow.
asked by: Dennis K
Expert Reply:
The heat sink coolers like the Derale Dual-Pass Heat Sink Transmission Cooler, item # D13266, do not perform nearly as well as the traditional style coolers. These coolers have a single large cavity and do not force the liquid through a number of small cavities as a tube or plate and fin style cooler would. In comparison the heat sink style would not perform as well as the smallest plate and fin style transmission cooler.

For your Town Car I would recommend the Derale Series 8000 Plate-Fin Transmission Cooler Kit w/ Hose Barb Inlets, item # D13501, which would cool a great deal more than the heat sink style of cooler and is not very large so there should be plenty of room to install the cooler in front of the A/C condenser.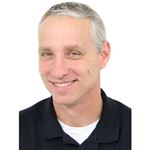 Ask The Experts a Question >>