Troubleshooting Trailer Right Turn and Brake Lights Not Working
Question:
I used a voltage tester to test the wiring at the vehicle side connector, and everything shows good voltage at the proper time, both turn signals and both brakes. Taillights also show voltage. When I take a brand new taillight assembly and wire it straight into the vehicle side connector for the left side, the left turn signal works fine. The left brake comes on once, goes off, and stays off. The taillight works. When I switch the wiring to the right side at the vehicle side connector, the turn signal does not work, nor does the brake light, but the taillight does work. If I turn the headlights on and put the brakes on then the right turn signal works.
asked by: Joe S
Expert Reply:
The brake and turn signals are on the same circuit so it is strange that it is malfunctioning in this manner. My first thought is that the load of having the light attached is causing the issue. This could be a couple of things.

First, depending on the vehicle, you may need some additional relays to make the trailer wiring fully functional. It will show it works when testing it with a meter because it is not enough of a load. When you add and actual light, it puts more load on the system so the problem shows up.

A similar issue could be a bad ground. When there is more load on a system, that is usually when ground problems show up. The bad ground could be with the trailer connector itself. Check to make sure that it is attached to a clean and corrosion free bare metal surface. I have attached a video on testing for a correct ground that might help.

You can also try connecting another trailer if available to see if it is the vehicle wiring or just the light itself. Bad grounds can also exist on the trailer. However, if you are connecting the wiring of a light directly to the connector and the problem exists, then it would seem to indicate a problem with the vehicle wiring.

If you are using the Adapter 7 Pole to 4 Pole and 5 Pole, # 37385 that you have referenced and are experiencing the problem, it could be a bad connection inside of the adapter and it will need to be fixed or replaced. I have also included a link to our wiring FAQ for you.
expert reply by:
Michael H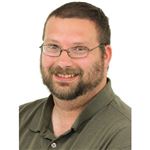 Ask The Experts a Question >>
Product Page this Question was Asked From
Adapter 7-Pole to 4-Pole and 5-Pole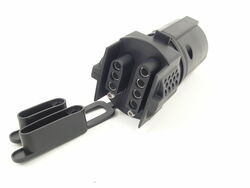 (

60

reviews)
Code: 37385
Retail:$18.95
Our Price: $15.63
Wiring
Wiring Adapters
Multi-Function Adapter
7 Blade
Plug Only
4 Flat
5 Flat
Hopkins
more information >
Featured Help Information
Miscellaneous Media