The Erickson horizontal E-tracks # E19148 and # E19135 will both have 2-inch mounting hole spacing and will work with the Brophy E-track backing plate # BPEZ.

I went to our warehouse to measure the backing plate with the E-tracks and they will fit just fine. The width center eye to eye is 4-1/2 inches and the length center eye to eye is 4-inches. The holes in the backing plate are only 1/16 of an inch larger than 4-1/2 inches, and the minimal difference is not enough to prevent a screw from running through both holes.

I also added a diagram for you to view along with a couple video reviews.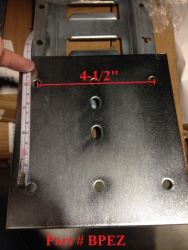 Click to Enlarge
Click to Enlarge